By Emeka Aneato, Ediri Ejoh and Prince Okafor
Local content in the oil industry engineering services in Nigeria has suffered due to lack of capacity and law. On the international side, there has been lack of interest in carrying out fabrication here in Nigeria. Because of lack of capacity the International Oil Companies, IOCs, will give the engineering services contract to a service provider that already has facilities outside the country.
However, with the passage of the local content law in 2010, there have been a huge amount of private sector participation of Nigerians in the oil and gas sector. Nigerians are emerging to be oil field engineering assets owners and assets developers as opposed to agents.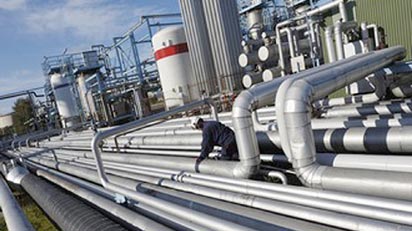 Under the local content act, the Nigerian investors know that if they build capacity, it will be utilize provided they meet the standard.
Lagos Deep Offshore Logistics Base (LADOL)
Based on the local content law which says the capacity has to be used if it is available in right quality, Nigerian investors, such as the shareholders in Lagos Deep Offshore Logistics Base (LADOL), have invested and continues to invest heavily to build that capacity, and the jobs are now being done by LADOL on the path to meeting that international standards.
Commenting on this development, Chief Executive Officer of LADOL, Dr. Amy Jadesimi, stated: ''We have gone from the base where it is economically unattractive or impossible due to lack of capacity to operate in Nigeria, to a situation where it is possible and attractive to operate. And that is the exponential change.''
On cost implications of this development she stated: ''Real local content reduces pricing. The reasons people saw Nigerians as expensive location is because we didn't have local content. We had agents who were adding their margins on the price, and we do not have enough capacity for the whole value chain to be done locally.
''We have to be manufacturing, doing engineering in Nigeria with Nigerians. That is what we call real local content. We have been able to offer the oil and gas companies 50 percent cost saving on their operations for the past decades and they know it.''
LADOL has been building up its expertise and level of infrastructure in the past 15 years to the level where it now handles an FPSO.
LADOL were able to select a location considered strategic and optimum not just within Lagos, but in Nigeria because its primary market is oil blocs close to Lagos and in deep offshore. Its secondary market is heavy industrial manufacturing and oil and gas client in the petroleum sector. These companies can  bring in the biggest vessels in the world, and operate 24/7 and they will need to be able to have a secure free zone, all of which LADOL offers.
As the first and only facility of its kind in Lagos, LADOL was created to ensure that the nation of Nigeria benefits directly from its deep offshore oil and gas reserves. By providing world-class facilities and services, LADOL encourages multinational firms exploiting the deep water oil reserves to utilize Nigerian companies to service their operations.
The Nigerian Upper Legislative Chamber, the Senate, Committee on Marine Transport has pledged to support LADOL and other similar facilities to achieve success in this area in the interest of the country. The members were impressed with the facilities the companies had been putting in place.
LADOL is working on Total's Egina FSPO project in LADOL facility, with Samsung Heavy Industries.
LADOL is also working on getting companies like Samsung, Chinese and Singaporean companies to come and work in its  free zone, and also, to diversify to other areas so that they can provide support for textile and agricultural companies.
One of the advantages of the LADOL platform is it's support to smaller Nigeria companies trying to get into local content. So long any company comes into the country to do business, there will be many related jobs that Nigeria companies can do.
The very problem these companies have is that they don't have facilities. But what LADOL does is to provide them facilities on which these Nigeria companies can work, learn and bid for jobs.
LADOL's works on Total's Egina FSPO project is ahead of schedule. Most people speculated that building the facility in LADOL will take five years, but the fabrication yard was built in just one year and so the project, supervised by Koreans is going quite well.
AOS Orwell
AOS Orwell (AOSO) is one of the largest multi-disciplined indigenous Oilfield Services Companies in Sub Saharan Africa, offering Well Construction Services such as Remedial Tubular Recovery, Directional Drilling, Casing & Tubular Running and Drilling Tools Rentals to the upstream sector, providing value added technical service well solutions to E&P clients in Nigeria and the West African market.
Marketing Manager of AOSO, Usman Amodu, told Vanguard that  ''many indigenous companies have invested millions of Dollars to boost local capacity in fabrication that meets international standards.''
He stated: ''At one of our companies in Onne for instance, I'm sure you must have been hearing the name –  Oil Tools Africa Limited (OAL/TTNL), our conductor casing/Threading premium Machine and Welding shop is first of its kind in Africa. All our equipment for welding and fabrication have international certifications from – Tenaris, JFE, VAM, Metal One, Oilstates and BENOIT etc. It is on record and we are always proud to say that we fabricated the first sets of Wellheads in-country for the Egina Project belonging to an IOC.''
Earlier this month AOSO announced the successful assembly and integration of the process automation cabinets for the Southern Swamp Associated Gas Solution (SSAGS) project field auxiliary room at Ogbotobo ready for delivering to Shell Petroleum Development Company (SPDC) on behalf of SAIPEM.
Country Manager, Mr Puneet Garg stated: ''This is the first Factory Accepted and Tested (FAT) process monitoring and integration control unit successfully completed by our company for SSAGS, a clear demonstration of excellent team work by all. We are proud to announce that the Field Auxiliary Room (FAR) has been tested and cleared for shipment by SAIPEM.''
The SPDC Ogbotobo FAR building is a containerized and intelligent modular building for SSAGS gathering project. It is an equipped process management solution consisting of parts that ensures all necessary functions of a Rig site.
AOSO's locally sourced input as a percentage of total contract value has grown significantly from around 55% in 2008 to over 70%, with the trend anticipated to continue.
According to the Marketing Manager Mr Usman Amodu, over the years, A.O.S Orwell has been investing massively and deliberately in collaboration with some notable International Original Equipments Manufacturers (OEMs) in the delivery of innovative opportunities as it concerns major technological inventions, machine tools, equipment and processes that optimizes the speed of service delivery in the industry as a whole.
DeltaAfrik
DeltaAfrik is one of the major Nigerian companies delivering engineering and project management services to the hydrocarbons industry.
The company's service capability covers the entire project lifecycle: from identifying the opportunity to the operating phase. Its extensive experience ensures that it provides project solutions with the lowest total lifecycle cost.
Specific upstream hydrocarbons services include: Feasibility studies and services; Front End Engineering Design (FEED); Detailed design; Project management; Estimating and project controls; Construction management; Equipment testing and start-up; Brownfield upgrade and retrofits, among others.
DeltaAfrik takes a full service approach to provide value-added engineering services.
Some of its key projects include: The Olokola Gas Supply Project executed for Chevron Nigeria Limited. It is a multi-platform offshore development, including two production platforms, 10 wellhead platforms and 350 km of pipelines.
They also did the Agbami Subsea Project. The Agbami Field Development Project is situated on OPL 216. License (OPL) 209 some 220 miles South East of Lagos.
Bell Oil & Gas
Bell Oil & Gas offers an extensive range of premium professional services designed to meet the growing and changing needs of the Nigerian oil and gas industry.
The company provides surface protection services; Line Pipes & OCTG; Flow control; Well testing services; installation and Maintenance of glass-fibre reinforced epoxy (GRE) pipe systems; drilling services and rotating equipment.
This year the company was involved in manufacture, supply and installation of GRE Spoolable Pipes for OBEN High Pressure 4″ norminal 3000 series Fiberspar Linepipe with HDPE Pressure Barrier. The project was for Seplat Petroleum Plc.
Also it did the construction and installation of 6.2″ GRE Spoolable Pipes from Amukpe LTF to Sapele Well4 with Excavation, back filling, fabrication of hook-up spools and installation of fibre spar spools, also for Seplat Petroleum Plc.
Bell Oil & Gas did the repair of 14″ GRE Fire Water Ballast Line in Agbami FPSO for Chevron Nigeria Limited.
The company was also involved in design, manufacture and installation of two chemical Injection Package for OFD3 & OFD5, Ofon project for Nigerdock/ Total Nigeria.