2016 will go down in history as a year to remember. Quite an eventful year it has also been for women all over the country. As we glide into the New Year, Woman's Own takes a quick look at the major women-related events that got Nigeria talking in 2016, beginning with the most recent.
By Josephine Agbonkhese
DECEMBER
Super Falcons soar higher
AS if December was specially designed for the Super Falcons, they made news almost on daily basis. From the beginning of the month when they emerged champions of Africa after beating Cameroon 1-0 in the finals of the 2016 Africa Women's Cup of Nations right up to 25th, the peak of Christmas, when they moved up two places from 37th to 35th in the latest FIFA world ranking; making them number one in the continent. It's been from one celebration to another for the girls this year.
They didn't only win big but got their entitlements paid at last on December 16 by the Federal Government.  The money didn't, however, come until series of protests and a major one on December 14th at the gate of the National Assembly, same day Mr President presented the 2017 budget.
Kuforiji-Olubi bids farewell
WHILE the Super Falcons were being celebrated on one hand, the death of Otunba Ayora Bola Kuforiji-Olubi on December 3, few days after her 80th birthday, almost took the shine off the month. A sad one it indeed was for everyone, including President Muhammadu Buhari who described the former Minister of Commerce as "a distinguished economist and manager who scored many firsts in breaking the glass ceiling in both private and public services". Kuforiji-Olubi will be remembered for blazing the trail for Nigerian women to pursue eminent positions in both the public and private sectors. She was the first woman to serve as chairperson of the United Bank of Africa and the first woman president of the Institute of Chartered Accountants of Nigeria.
NOVEMBER
Hillary Clinton fails to make history
HILLARY Clinton's unanticipated loss at the U.S. elections of November 8  was practically the biggest women-related event that got Nigeria, and in fact the entire world, talking in November. Rather than witness the shattering of the ultimate glass ceiling, women across the globe watched an historic breakthrough slip away as Clinton failed to become the first woman elected president of the United States.
For the first time in America's history, a 'woman' was competing for that office. The fact that this hope was dashed almost a century after U.S. women won the right to vote in 1920, made it the more disheartening. Many also fear the historic loss could discourage women from running for office as Hillary was more than qualified for that office.
OCTOBER 
21 Chibok school girls released
MORE than two years after their kidnap in April 2014, in the early hours of October 13, 2016, 21 out of the remaining 219 Chibok school girls were released by their captors, Boko Haram. It was gathered that their release was brokered by the Swiss Government and the International Committee of the Red Cross. It still isn't quite clear whether the girls were swapped with imprisoned top members of Boko Haram or a ransom was paid. Whichever though, the joy of the girls' return will continue to gladden hearts and brighten hope for the remaining girls.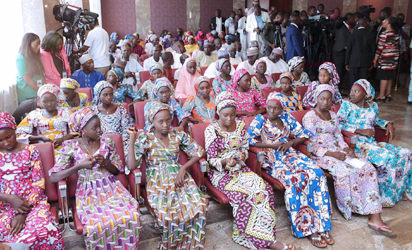 The 'other' room
WHILE everyone was still basking in the euphoria of the release of 'our girls', Mr President who had left the country for Germany same day the girls were released, made the most shocking, controversial comment of the year, while standing right beside German Chancellor Angela Merkel.
"I don't know which party my wife belongs to, but she belongs to my kitchen, and my living room and the other room," he said, responding to questions from journalists about an interview his wife had granted BBC Hausa, in which she raised an alarm that her husband's government had been hijacked.
From then on, a furious hashtag #TheOtherRoom trended in the social media scene and even on every lip, with most people lampooning the president for trying to demean women.
SEPTEMBER
Female paralympians win three gold medals
MEANWHILE, at the Paralympic Games in Rio in September, female paralympians did their country proud by clinging three gold medals. Ndidi Nwosu who competed in the 73kg of the power lifting event outclassed her opponents from France and Egypt, winning a gold medal.
In the 79kg category was Bose Omolayo who beat her opponents from China and Taipei. The third gold came via shot put where Lauretta Onye threw 8.40m to set a new world record. These girls officially earned Nigeria the title of best African country at the Paralympic Games.
AUGUST
Nigeria rows on Olympic waters
FOR the first time ever, in August, Nigeria rowed on Olympic waters and representing the country was a 23-year-old Nigerian-American, ChierikaUkogu, who crowdfunded herself to RIO 2016 Olympics. Although she was mistakenly announced on social media by American rapper Snoop Dogg to have won a silver medal even though her journey ended at the quarter finals, Ukogu's selfless service to the nation speaks volumes.  Known to her friends as "Coco", she raised $15,000 (£11,400) herself as she said the Nigerian Rowing Federation was not able to give her financial support. Ukogu's enthusiasm was a soothing balm to the bumpy Rio ride for Nigeria.
JULY
Dino Melaye vs Remi Tinubu
MEMORIES of the month of July won't be complete without the squabble between Dino Melaye (APC Kogi) and Mrs Remi Tinubu (APC Lagos) which disrupted the red chamber on July 12 and made headlines for months to come.
According to reports, trouble started when Melaye urged the Senate to descend heavily on members who had offered to serve as prosecution witnesses in the forgery case against Senate President Bukola Saraki and his deputy, Ike Ekweremadu.
When Mrs. Tinubu was recognised to speak, she rose, and said, "I'm just wondering why whenever Senator Dino speaks in this chamber, he is always threatening people and behaving childishly and at times like a thug…"
At that, Melaye jumped up from his seat and charged towards Mrs. Tinubu, saying, "Look this is not Bourdillon (referring to the famous Lagos residence of Mrs Tinubu's politician husband). I will beat you up, … impregnate you and nothing will happen."
Britain gets female Prime Minister
AS if to douse the tension brewing across the country over Melaye and Mrs Tinubu's spat, the following day, July 13, Britain got it second female Prime Minister ever in person of Conservative MP Theresa May.  Margaret Thatcher was the first woman to ever hold that position and that was way back—1979 to 1990.  That appointment makes Ms May, 59, who succeeded David Cameroon,the 12th PM during the reign of Queen Elizabeth II.
JUNE
Nigerian becomes first black to head Inner Wheel
ON June 28 in far away Manchester, United Kingdom, a Nigerian woman, Mrs Oluyemisi Alatise, made history as the first black woman to be installed President of the International Inner Wheel, an organisation of women world-wide in 103 countries with over 4,640 clubs.
The charity organisation has over 100,000 members in its 94years of existence and the first Inner Wheel club in Nigeria was formed over 50 years ago. Alatise took over from Mrs. Charlotte de Vos of Belgium.
MAY
Tiwa Savage opens can of worms 
STEALING the show in May was entertainment diva Tiwa Savage who threw the media scene into frenzy with a released video in reaction to social media rants attributed to her estranged hubby, Tee Billz, about her alleged sexual indiscretion. Billz's rants had brought the Tiwa Savage brand under scrutiny of fans, critics and business partners alike.
Many even feared her endorsement deals with some companies would be terminated. The video of her no-holds-barred interview with Pulse was so raw that it almost blew the supposed family affair out of proportion.
APRIL
It's two years without Chibok girls
ON April 14, with  marches, chants and prayers, Nigerians marked the painful second anniversary of the mass abduction of  219 Chibok girls from a school in the northeastern town of Chibok by Boko Haram in April 2014; still angry and frustrated the teenagers had not been found; but hopeful a new video tagged 'Proof of Life' might lead to their safe return.
The girls would have been long forgotten except for the Bring Back Our Girls, BBOG, group that has kept them in the news, doggedly demanding their return—alive.
MARCH
Queens College sexual harassment scandal
IN the news almost throughout the   month of March was the alleged molestation and sexual harassment of a Junior Secondary School, JSS2 student of Queens College, Lagos (a girls-only school), by a Biology teacher, Mr Olaseni Osifala.
The school management however dismissed the allegation against the teacher who was said to be their best, as a ploy to ruin the hard-earned reputation of the school. The alarm was raised by the girl's mother, Chinenye Okoye, via an online news site, and within minutes, the news had gone viral as almost everyone didn't seem to expect such from Queens College.
FEBRUARY
Jumoke the bread seller turns model
JUMOKE SundayOrisaguna stole the show throughout and after February when she was discovered February 4  and transformed after a long search by photographer and singer Ty Bello. Recall that English musician TinieTempah and Ty Bello were doing a photoshoot in Nigeria when they were accidentally photo-bombed by the bread seller. The photo came out perfect, and Bello was enchanted…and then the search for this bread seller began.
Jumoke, a mother of two, was immediately transformed after being found and once she appeared on the cover of ThisDay Style, modelling deals came scouting for her, heralding a new dawn for the Osun-born and giving her life a new meaning.
Ese Rita Oruru is released
WHILE Jumoke's magical transformation continued to make the news and gladden hearts, the case of a Bayelsan minor, Ese Oruru, abducted for marriage and taken to Kano by one Yinusa Dahiru from Kano State, ached the stomach. She was raped, forcibly Islamised and married off without her parents' consent. Though abducted in August 2015, alarm raised by her parents paid off February 29 when the 13-year-old was released by Kano State Police. Another drama started when she was revealed to be five months pregnant. Ese Oruru's case made headline for months to come, assuming various dimensions.
JANUARY
Uproar over Christine Lagarde's visit to Nigeria
JUST as Nigerians were beginning to settle into the New Year in the first week of January 2016, the visit of a woman to the country aroused anxiety. That was the Managing Director of the International Monetary Fund, IMF, Christine Lagarde. Her four-day visit practically got Nigerians wary and talking for weeks to come.
There were speculations that she was here to negotiate a new round of IMF loans for the country together with the tough conditions that always accompany them. Lagarde however denied the allegation, saying that Nigeria does not need a loan. She however held talks with President Muhammadu Buhari; Finance Minister Kemi Adeosun; Central Bank of Nigeria, CBN, Governor, Godwin Emefiele, Senate President Bukola Saraki, bankers and businessmen.