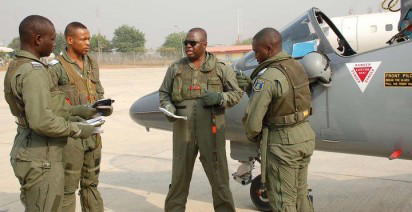 Concerned about global politics surrounding procurement of sophisticated arms from western countries, Nigerian Airforce (NAF) is expecting arrival of war-planes and helicopters from Pakistan and Russia to boost its fleets.
The Chief of Air Staff, Air Marshal Sadique Abubakar made the disclosure at a breakfast briefing with Editors of Online Media in Abuja at the weekend.
Air Marshal Abubakar said : "I want to say that we have been enjoying support from other countries. (Sometimes arm procurement) is shrouded in a lot of politics. Unfortunately, I'm not a politician, so I cannot be able to say much on that. But what I can tell you is that right now as I speak to you, we are expecting the Pakistani Chief of Air Staff in Nigeria soon. Pakistan has accepted to sell ten trainer airplanes. And that is why the Pakistan Chief of Air Staff is coming for the induction ceremony which is going to take place in Kaduna.
"We are really getting support from many countries. Similarly, we have trained so many people in Pakistan, China. In the US, we have pilots that are training right now. We have other pilots that have just finished training from the United Kingdom. We have additional pilots that are training in South Africa. We have more pilots that are training in the Egyptian Air Force and so many other places including Russia…We are really getting support", he said.
On the competence of Nigerian fighter pilots, Abubakar said "In the last 18 months, we have flown almost 3000 hours with no incident. In terms of competence I can tell you that the Nigerian Air Force pilots are amongst the most competent. Because the training curriculum is very clear.
And that is why now in the Air Force you look at the wings, pilots wear wings. We have categorized the wings according to their skill levels. We also organize simulation training for our pilots, we organize evaluation visits where pilots are evaluated without any notice. We have also sent over 700 personnel of the NAF to different parts of the world to train and acquire the skills required for them to be effective.
The Chief of Air Staff said the air force is currently assisting the Nigerian Army and Navy in the North and South in countering criminal activities of terrorists and militants through operational strategy, air interdictions strategy and soft-core strategy. He explained that the main objective of is to create an enabling environment for the ground and surface forces, to be able to operate with little or no hindrance.
He continued: "Another substrategy under this is the reactivation of airplanes. We have embarked on the reactivation of airplanes and today as I speak to you we are on the thirteenth aircraft. What I mean by reactivation is that aircrafts that were not in involved in any fight before the coming of the present federal government; they were parked before but are today part of the fight.
"The thirteenth aircraft as I speak to you is being worked upon in Yola and we are hoping that before the end of this month that airplane will be flying. When you train, you must reactivate the platform to be used in flying."
The Air force boss also denied a recent rumour of helicopter crash in Makurdi. Explaining the incident involving Agusta AW 101 helicopter handed over to NAF by President Muhammadu Buhari, he said: "What happened in Makurdi was not a crash. Immediately we received the aircraft from the Presidency, we took one of them to Kaduna to paint it into desert camouflage. They removed the seal of the President and painted it into a combat machine.
"When they finished the painting, they were supposed to go to Maiduguri but they needed to go to Makurdi to pick certain things before proceeding to Maiduguri. So the aircraft took off from Kaduna, landed perfectly in Makurdi. They were just taxiing to go and park when the incident happened. I don't want to pre-empt whatever investigation that is going on.
"Those same pilots were the ones that picked the 21 Chibok girls that were moved out in the night and brought them back to Maiduguri and from Maiduguri to Abuja. So accidents happen and we are investigating to find out why it happened and we will make it public when we get the picture of what really happened."
The Chief of Air Staff also disclosed that the welfare of air men and other officers in the Airforce have been improved upon through provisions of accommodation, agricultural programs, housing schemes and other welfare packages. He added that people in host communities are also beneficiaries of its services through the provisions of health facilities, water boreholes, schools and skill acquisitions centres.