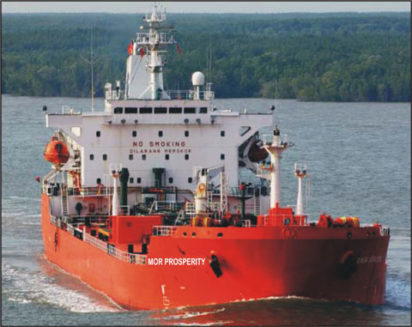 * Mor Prosperity; one of the two newly acquired vessels by Morlap Shipping Company.
Shipping Corporation of India (SCI) will resume sailing to Iran this month after a four-year gap, transporting an oil cargo for a state-run refiner, the chairman of India's biggest shipping company said on Tuesday.
SCI stopped sailing to Iran in 2012 when sanctions targeting Iran's nuclear program prevented the company obtaining insurance cover for oil and other shipments.
Following the lifting in January of some western sanctions, International Group of Protection and Indemnity (P&I) Clubs – which generally insure the tanker market – have been able to obtain "fall-back cover" from non-U.S. markets.
"The level of cover provided by the fall-back cover has been recently raised to 100 million euros ($111.30 million), which is fairly high and provides substantial levels of protection," B.B. Sinha said in a telephone interview.
SCI will this month use one of its Suezmax-sized tankers to ship an oil cargo for state-refiner Hindustan Petroleum Corp. Ltd. (HPCL) from Iran.
"It is not yet decided … which SCI-owned vessel is going to Iran," Sinha said.
SCI had contracts with HPCL, Bharat Petroleum Corp (BPCL) and Mangalore Refinery and Petrochemicals Ltd. to ship crude from Iran, he said.
HPCL will resume Iranian oil imports from July after three years because insurance was now available for plants processing Iranian oil, its head of refineries B.K. Namdeo said.
Similarly, BPCL's head of refineries, B.K. Datta, confirmed it also planned to import an oil cargo from Iran this month, although it would use the Panama-flagged tanker "Vito."
India's Iranian oil imports are set to hit a seven-year high in the year from April 1, with refiners buying at least 400,000 barrels per day.
Iran currently supplies the bulk of its oil to India using its own vessels.
Some Indian refiners such as Essar Oil and Reliance Industries have already begun importing Iranian oil in tankers flagged from other countries.
Sinha hoped the lifting of sanctions would boost trade between India and Iran. SCI returned to profit in the 2014-15 fiscal year after suffering three years of net losses.
SCI aims to expand its fleet by allocating about 10 billion rupees ($148.42 million) for capital expenditure in the current fiscal year to March 2017 from nil last year, he said.
"Fleet expansion is necessary as India's foreign trade is also increasing with a growing economy," he said, adding that 60-70 percent of the capex would be funded through foreign loans and the remainder internally.
Sinha said the company aimed to buy second-hand ships so they could be deployed quickly.