Ghana election: Ghana's opposition candidate Nana Akufo-Addo told a cheering crowd on Thursday he was "confident" he's won the presidential election, despite the official results not yet being released.
Speaking to a rowdy crowd of New Patriotic Party (NPP) supporters gathered at his private residence, Akufo-Addo said he believed he had defeated long-time rival and incumbent John Mahama.
"We the NPP are quietly confident that we have won a famous and historic victory," Akufo-Addo said, calling for his supporters to be patient and peaceful while the electoral agency tallies the results.
"It's going to be an anxious time, I know, until the results are formally declared, but we have been through this before and we should be able to go through it again," Akufo-Addo said.
"We will await the electoral commission to give us the formal, final details.
"This is a time we will have to remain very calm and very focussed — the eyes of the world are on us."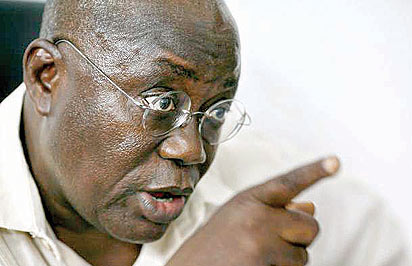 The election had been blighted by sporadic outbursts of violence in a country otherwise known as a beacon of freedom and democracy in Africa.
Ghana closed most of its voting stations on Wednesday evening, but the Electoral Commission has been slow to release the results, with local media reporting that the NPP has secured the lead over Mahama's National Democratic Congress (NDC) party.
The Electoral Commission said on Thursday evening that they had received preliminary results from 90 of out 275 constituencies, but only published the results for 25 of them.
"Please be patient," commission head Charlotte Osei said at a press conference. "Accuracy is more important than speed."
Both PeaceFM and CitiFM claimed Akufo-Addo was leading the vote count.
Election observers have called on the commission to publish the results faster in order to lay to rest suspicions that the vote may be rigged.
Akufo-Addo, 72, is likely making his final bid for the presidency after two previous failed attempts while Mahama, 58, is running for a second term of office.
Subscribe for latest Videos