Three days after they arrived Borno to celebrate the holidays in their community, the recently freed 21 Chibok schoolgirls were not allowed to spend the Christmas with or see their parents, residents have said.
The girls were said to have arrived Chibok amidst tight security on Saturday but were not immediately allowed to meet their parents.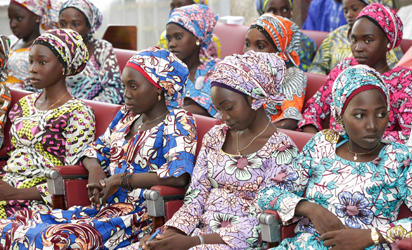 A resident said the girls were kept in the home of the member representing Chibok in Borno State House of Assembly.
Residents were told the girls would not meet with their parents until the Borno State Governor, Kashim Shettima, arrived Chibok to officially present them to their parents.
A school teacher in Chibok, told online publication, Premium Times, on phone that most of the parents were agitated by the fact that their daughters were in town yet they had to celebrate Christmas without them.
"There is tension everywhere now in Chibok. The security is tight around Chibok town as I am speaking to you.
"The girls were brought in three days ago and none of the parents could meet them. We thought they are here to celebrate the Christmas but they were locked up in the home of the House of Assembly member, pending the arrival of the state governor," he said.
He said residents of Chibok gathered at Chibok Central Primary school where the governor was expected to address them on Monday afternoon.
The 21 out of the 208 abducted Chibok schoolgirls were freed in October this year, following a deal between Boko Haram and officials of the Federal Government.
The details of the deal were marred in controversy, but the government has denied it paid ransom or freed Boko Haram detainees to free the girls.
Since their release, the 21 girls have been in the custody of the Federal Government.
In reaction to what the residents said, the spokesman of Borno State governor, Isa Gusau, said the state government did not deny the parents the opportunity to spend Christmas with the girls.
"To the best of my knowledge, the 21 freed Chibok schoolgirls are still under the custody of the Federal Government. And when they arrived Yola three days ago, on their way home, they were received by the chairman of Chibok local government as well as chairman of abducted Chibok girls association as we all saw them on the national television.
"I am not sure they were denied access to their parents because that was the essence of their being taken to Chibok in the first place. If you say their movements were restricted for security reasons and for their safety, I think that makes sense," he said.
"And I am not aware the governor has to be in Chibok before the girls meet with their parents. The governor is visiting parts of southern Borno as part of his earlier plans to celebrate the Yuletide with the people and also to inspect some ongoing projects there. H