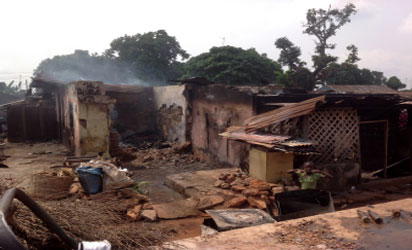 One of the buildings affected by the fire.
By Festus Ahon
ASABA—Goods worth millions of naira were reportedly burnt in a midnight fire at the popular Old Cable Market, Asaba, the Delta State capital, yesterday.
The mysterious fire, which reportedly started at about 2a.m., according to a source, destroyed furniture, electronics and food stuffs, while completely razing a building near the market.
The source, who pleaded anonymity, said the cause of the fire, which completely razed the building with seven stores and residential apartments, was not known, lamenting that men of the state fire service could not put off the inferno as they ran out of water.
As the occupants were counting their losses, a tenant, who simply identified himself as Charles, said before he got to the scene at about 4a.m., sympathisers had rescued his goods.
He said: "I sell clothes and I just restocked for the Yuletide. But I count myself lucky because my goods were saved by neighbours, who removed them from the store before the fire consumed it.
"I received a call at about 4a.m. When I got here (the market) the fire was still raging and fire service men that came ran out of water. They left while the fire was still on and never came back.
"This building has about seven stores and living quarters. All the stores were burnt and people lost goods worth millions. I am appealing to the state government to come to the aid of the victims."