By Emeka Mamah, Vincent Ujumadu, Dennis Agbo & Chinedu Adonu
Leaders of Indigenous People of Biafra, IPOB, and  a  former Secretary General of Ohanaeze Ndigbo, Chief Nduka Eya, are among Igbo people who have rejected  President Muhammadu Buhari's  statement that those agitating for Biafra should perish the idea because it would not be a reality, saying  Buhari was day-dreaming.
IPOB, in a statement  by its  spokesman, Emma Powerful, said that Buhari and the people around him are far from the reality about what is happening now and what is about to happen in Nigeria concerning the restoration of Biafra.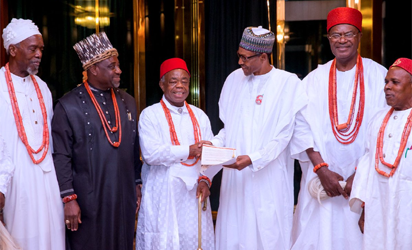 According to IPOB, the statement credited to the President during a meeting with South-East traditional rulers that his visitors, should advise their subjects to forget the issue of Biafra had proved that Buhari and his the people around him  were far away from the reality on ground.
"They forgot that there is no how Nigeria can be one again because of the cheating from the people ruling the country. They also forgot that there are those who came to rule Nigeria in perpetuity are of the knowledge that Nigeria is not going to be one country in the near future", the group said.
"There is no way a country where cheats, quota system, imbalance of states and local government areas and lopsided sharing are the order of the day can be one indivisible entity.
"Those who created 19 states in northern part and 17 states in the southern part of Nigeria and more local government areas are aware before the creation that one day Nigeria will be a devided nation.
"With the fraudulent falsification of Nigeria census figures against the Biafrans since the colonial era, they know very well that one day Nigeria will be a thing of the past.
"We are also aware that those at the corridors of power in Nigeria are aware that Nigeria is sinking but refused to tell the president the truth on the ground about the coming of Biafra.
Eya, a former Secretary General of Ohanaeze, who spoke to Sunday Vanguard, yesterday, on the President's statement,  said Buhari was "day-dreaming."
The Secretary of Ohanaeze in Enugu State, Hon. Fidelix Ojobo, spoke in the same vein, saying the Ndigbo would continue to agitate for Biafra since the agitation is guaranteed by the 1999 Constitution. The former Secretary General said, "The man (Buhari) is day-dreaming. He has the solutions to Nigeria's problems in the resolutions of the last National Conference through restructuring but he is not doing anything..
"Biafra is a reality, people should not be angry because time shall tell. Abacha gagged Nigeria in his own time until God called him and MKO Abiola. Nobody should worry about whatever he says but if he thinks that Biafra is something to be wished away, then Biafra will overtake him. All I can say is that oppression stops when the oppressed says no."
Meanwhile, Enugu State Secretary of Ohanaeze Ndigbo, Hon Ojobo, said Buhari was merely airing his opinion as an individual, adding that Nigerians and Igbo in particular would continue to agitate for their constitutional rights.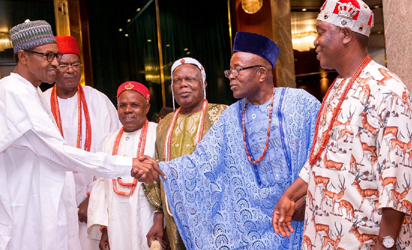 "The issue of Biafra is not a bad agitation and it is also not violent. The Igbo will keep agitating.   Biafra has come to be whether he supports Biafra or not," Ojobo said.
He then advised the President to remember that "we are operating democratic system of government and he should organise a constitutional conference and seek people's views, because a referendum will help immensely to solve problems of this country."
Ojobo also urged Buhari to address the issue of Igbo marginalisation in the area of political appointments, federal civil service recruitment, infrastructural development, especially roads among many other issues, instead of insisting that those agitating for their civil right (Biafra) should perish the idea.
In his own reaction, Chief Boniface Odo of the All Progressives Grand Alliance, APGA, said that although he was not involved in the agitation for Biafra, he was in support of every move by Ndigbo to agitate against marginalisation by successive federal administrations including the present APC.
"APC has inflicted a lot of hardship on Nigerians, especially Ndigbo. APC is like one of the seven plagues that afflicted the people of Egypt in the Bible. We in a country where people are committing suicide due to hunger and one man is busy using coercive powers on those they are meant to protect their lives, it will not work. Our people must continue to agitate."