The Sen. Ahmed Makarfi-led faction of the Peoples Democratic Party (PDP), has described as `unrealistic political dream,' the claim that nine PDP governors support Sen. Ali Modu Sheriff-led faction.
Prince Dayo Adeyeye, National Publicity Secretary of the Makarfi-led faction, made  the remark in a statement issued to newsmen on Monday in Abuja.
Adeyeye said that the party's attention was drawn to a statement credited to Ahmed Gulak, an aide of Sen. Ali Modu Sheriff that up to eight PDP governors were in support of Sheriff's group.
"We naturally wouldn't have dignified Gulak and his cohorts with a response but silence could be misinterpreted as admission of the lies of this pathological liars.
"We are amused by Gulak's claims.
"Since the 21st May 2016 convention which held in Port Harcourt, Ali Modu Sheriff and his renegade band have never missed any opportunity to blame the governors for the problems of the party.
"Only last week their self appointed Deputy National Chairman Cairo Ojugboh was still castigating the governors for the party's woes at a press conference.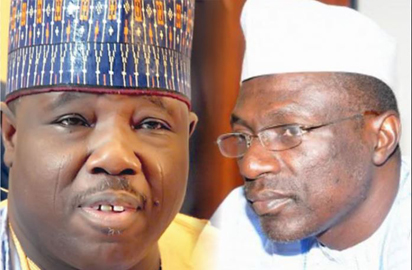 "Why attack those who are supporting you?''
Adeyeye said that if Gulak wanted to be taken seriously, he should name those governors who were supporting his group.
He added that Gulak should also disclose the type of support his group received from the governors.
"On the other hand, it may be a case of political hallucination (where someone sees, hears, smells, tastes or feels things that don't exist outside their mind).''
Adeyeye said maybe Gulak actually meant the All Progressives Congress (APC) governors who are their sponsors and not PDP Governors.
"The whole world knows that these are paid agents of the APC being used to destabilize our great party.
"We make bold to say that all PDP governors are fully in support of the Care Taker Committee which they and other stakeholders created
"Gulak should wake up from his dream and come to the world of reality,'' Adeyeye said.