*As Dangote emerged NESH Entrepreneur of the Decade
By Emeka Anaeto
MAKING his debut at the Nigerian Entrepreneurship: Summit & Honours (NESH) public interactive session, The Hon. Minister of Industry, Trade and Investment, Dr Okechukwu Enelamah, has indicated that come next year, the focus would be on results not policies, especially in the area of Ease in Doing Business in Nigeria, a critical benchmark for global competitiveness of economies.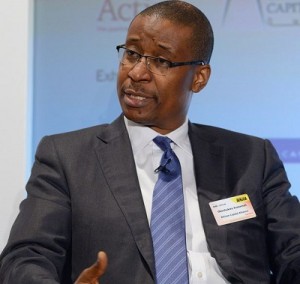 He declared that for him, his ministry and agencies, 2017 will be a year for deliveries on policies, reforms and commitments to the Nigerian public than enunciation of new ones.
He said that the critical foundations to realise his ministry's major policy thrust  on the Ease of Doing Business in Nigeria as a key enabler to drive the adopted Nigerian Industrial Revolution Plan is firm and decisive,  as Nigeria will be made more investment friendly for everyone than ever before.
Enelamah stated: "As a public servant now, with known private sector entrepreneurial  background, my engagements with the organized and informal sectors has been mutually affirmative that we should work harder in partnership and disagree less, grow confidence with greater transparency by government, and accelerate actions than words, to build our capacities and secure development.
"My clear bias for implementation  and result in 2017, is a deliberate resolve consistent with our promise to the president, his cabinet and now the public, that we should be held accountable on a bimonthly performance benchmark as part of our sacrifice to generate confidence and make progress than motion, and I intend to be held responsible on this score.
Dr Enelamah agreed that Nigerians must make haste with industrialization but meaningfully, targeting areas of comparative advantage like the agro based sector and their value chain, the automotive industry and the petrochemicals, revealing that "as much as foreign direct investments are so desirable, the good news is that Nigerian investors are actually doing more by scale and size which makes it compelling that we should deliver better to encourage them than hinder them."
Earlier, political economist and policy strategist, Prof Pat Utomi, who chaired the event, canvassed a third arm between the public and private sector paradigm. This third arm, he reasoned, should be dedicated to bringing to shame those who chose to afflict Nigeria with failure than solutions, yet walk with swagger as if failure is a glamour patent in Nigeria public sector.
Global challenge
This he argued is very fundamental to unhinge Nigerian's   mindsets that government officials profit more by creating problems than solving same, hence the disdain that they are more disabling than enablers, totally disconnected from the global challenge that Africa must produce or die.
Founder of NESH and convener of the interactive session, Emeka Ugwu-oju  unveiled a welcome novelty of having entrepreneurs choose by transparent secret ballot who deserved the coveted crown of NESH Entrepreneur of the Decade (2005-2015) amongst ten sector  leading Nigerian Entrepreneurs .
The shortlisted Entrepreneurs were – Mike Adenuga (Telecommunications ); Akpabome Atunyote aka Alibaba (Entertainment); Awosika Ibukun (SMEs); Aliko Dangote (Industry); Leostan Ekeh (ICT); Tony Elumelu (Social Entrepreneurship); ABC Orjiakor (Oil and Gas Upstream); Oba Otudeko ( Conglomerate); Jim Ovia (Banking and Finance); Wale Tinubu ( Oil and Gas Downstream)  and  Africa's richest man and  President of the Dangote Group, Dr Aliko Dangote emerged the winner after the votes were counted.