Abuja – Watford FC's Super Eagles striker Odion Ighalo says January's Africa Cup of Nations (AFCON) in Gabon will be a sad chapter for Nigerian football.
After failing to qualify for a second straight Nations Cup finals, the fans and players of the 2013 champions will have to watch from the sidelines again.
The 27-year-old says the reality of their failure will really hit home when the tournament kicks off on Jan. 14.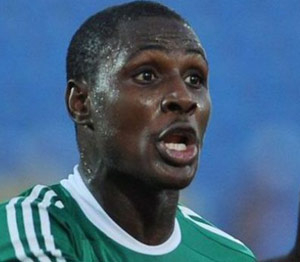 "I felt bad (that we didn't qualify). Not just me, but Nigerians as a whole are not happy,'' he admitted.
"Seeing teams playing in the Nations Cup and you see yourself at home, and you know you're not going to the Nations Cup, that's when I am going to feel bad.
"But we know we don't have to dwell on that, and we don't have to kill ourselves about that.
"We have to work towards the next one and keep pushing. Hopefully, we will qualify.''
Before Nigeria can think about reaching the next AFCON in Cameroon the Super Eagles have the 2018 World Cup qualifiers to negotiate.
Nigeria are currently top of their World Cup group with two wins out of two and continue their campaign at home to Cameroon in August.