U.S President-elect, Donald Trump's comment which warned residents in the country to desist from burning the country's flag or risk going to jail or losing the country's citizenship has sparked off backlash.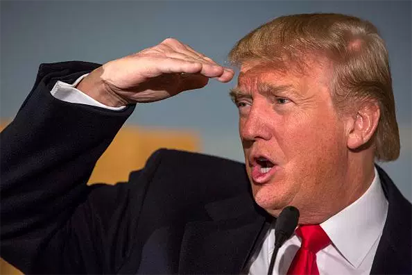 Trump had in a series of tweets on Tuesday, given the comment while reacting to protesters who have recently been burning the country's flag to show their displeasure over Trump's emergence as the President-elect.
He tweeted that "Nobody should be allowed to burn the American flag – if they do, there must be consequences – perhaps loss of citizenship or year in jail!"
However, the White House has repudiated Donald Trump's assertion that protesters who burn the flag should potentially be imprisoned or stripped of their citizenship.
The victory of Trump in the November 8 presidential election had generated hate actions including protests.
According to the Guardian Southern Poverty Law Center counts 867 hate incidents across US in 10 days since election, with many targeting immigrants, black Americans and Muslims.
A student at a college in Massachusetts was reported to have allegedly burnt a flag in protest at his shock election win.
Josh Earnest, the White House spokesman, told reporters that freedom of expression was enshrined in the US constitution.
"The need to protect those rights is in place to protect speech and expression not just when we agree with it but also when we find it offensive," he said.
"Many Americans – the vast majority of Americans, myself included – find the burning of the flag offensive but we have a responsibility as a country to carefully protect our rights that are enshrined in the constitution."
Earnest added: "This is a bipartisan sentiment. I know that there are conservatives on the supreme court that share the view that I've just articulated.
"I know that there are Democrats and Republicans in the United States Congress that share the view I've just articulated, and it certainly is consistent with the kind of governing agenda that President Obama has pursued here in the White House during his eight years in the Oval Office."
Asked if the president, who has spoken to Trump by phone more than once since the election, was concerned about such views, Earnest replied: "This is not the first thing that the president-elect has said or tweeted that President Obama disagrees with."