By Ikechukwu Nnochiri
ABUJA – Justice Sylvester Ngwuta of the Supreme Court, on Monday, pleaded not guilty to a 16-count criminal charge preferred against him by the Federal Government.
Ngwuta, who was docked before trial Justice John Tsoho of the Federal High Court in Abuja, denied allegations that he was involved in money laundering.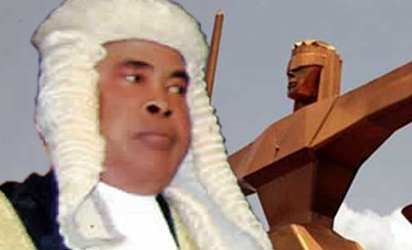 He has through his lead counsel, Chief Kanu Agabi, SAN, begged the court to release him on bail pending the hearing and determination of the case against him.
Agabi, who is a former Attorney General of the Federation and Minister of Justice, is contending that the charge against his client contained bailable offences.
He predicated the bail request on section 35 and 36 of the 1999 constitution, as amended, as well as section 162 of the Administration of Criminal Justice Act, 2015
Meantime, the prosecution counsel, Mr. Charles Adeogun-Philips, sought for time to respond to Ngwuta's bail application which he said was just served on him.
There are indications that FG may not only oppose the bail application, but could demand that the accused jurist be temporarily remanded in prison custody pending ruling on the bail request.
"We were just served the bail motion so we need time to brainstorm on the next step to take. In any event that the court is minded to grant the defendant bail, we will demand for stringent conditions", one of the lawyers in the prosecution team told Vanguard in confidence.
Earlier, Adeogun-Philips had shortly after Justice Ngwuta entered his plea, informed the trial court that one of his witnesses was present and willing to immediately commence his Evidence-In-Chief.
Trial Justice Tsoho however stood down the matter till 12.30pm to take arguments on the bail application.
Justice Ngwuta was among seven superior court judges that were arrested between October 7 and 8, after the DSS raided their homes in what it termed "a sting operation".
He was in the amended charge marked FHC/ABJ/C/232, and signed by a Principal State Counsel, Hajara H. Yusuf, alleged to have among other offences, stashed foreign currencies in his Abuja home.
FG said the DSS, at the end of the search operation conducted at Ngwuta's official residence, recovered several sums of cash, including the sum of Thirty-Five Million, Three Hundred and Fifty-Eight Thousand Naira (NGN35,358,000.00); Three Hundred and Nineteen Thousand, Five Hundred and Ninety- Six United States Dollars ($319,596.00).
As well as Twenty-Five Thousand Nine Hundred and Fifteen Pounds Sterling (GBP 25,915) and Two Hundred and Eighty Euros (EURO 280.00).
It said the search also revealed about four Diplomatic passports, one official and two standard Nigerian passports all in the name of the defendant.
FG told the court that the DSS executed a search warrant at Justice Ngwuta's home on October 8, following series of allegations of corruption that were levelled against him.
More details soon.