By Nkiruka Nnorom
INVESTORS woes worsened last week following dismal performance sustained across all sectors on the Nigerian Stock Exchange, NSE, leading to a loss of N218 billion at the close of activity in the week.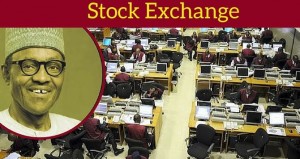 At the close of trading session on Friday, the equities market capitalisation slumped to N8.791 trillion from N9.009 trillion recorded in the preceding week, representing -2.42 per cent decrease. In the same vein, the second market measurement indicator fell to 25,537.54 points from 26,170.88 points, also representing 2.42 per cent week-to-date return and year-to-date return of -10.84 per cent.
Trading statistics from the Exchange showed very poor performance across all the sectors in the market with the exception of the insurance sector that rose by mere 0.49 per cent propelled by 2.97 per cednt positive returns on Continental Reinsurance. As usual, the NSE Alternative Securities Market, AseM index closed flat, indicating zero activity in the sector.
The oil and gas sector recorded the worst performance during the week, falling by 7.42 per cent on account of massive sell-off in Forte Oil Plc.
The industrial goods sector impacted by 13.10 per cent loss in Paints and Coatings Manufacturers Plc, followed with with a negative return of 4.39 per cent, while the banking sector closed lower at 2.39 per cent. The consumer goods sector was down 1.78 per cent as a result of losses recorded in Flour Mills of Nigeria plc.
Forte Oil Plc led the losers during the week, depreciating by 20.89 per cent to close at N82.67, followed by Transnational corporation of Nigeria (Transcorp) Plc with 18.60 per cent depreciation to close at n0.70 per share. Flour Mills of Nigeria Plc went down by 14.38 per cent to close at N16.20; Paints and Coating Manufacturers Plc depreciated by 13.10 per cent to close at n0.73, while Wema Bank was down 12.70 per cent to close at N0.55 per share.
A turnover of 823.547 million shares worth N5.444 billion were traded by investors in 11,634 deals in contrast to a total of 2.847 billion shares valued at N7.420 billion that exchanged hands in 16,065 deals in the preceding week.
The financial services sector measured by volume led the activity chart with 616.999 million shares valued at N2.667 billion traded in 6,142 deals; thus contributing 74.92 per cent and 49.00 per cent to the total equity turnover volume and value respectively. The conglomerates sector followed with 47.741 million shares worth N43.735 million in 510 deals. The third place was occupied by the consumer goods sector with a turnover of 42.674 million shares worth N1.735 billion in 2,112 deals.