By Ola Ajayi, Ibadan
Minister of Communications, Mr. Adebayo Shittu did not spare the governors in the South West Friday especially those who make so much noise about true federalism saying most of them are ignorant of what true federalism means.
He said this when presenting a lecture on the occasion of the 40th anniversary of the Department of Psychology, University of Ibadan.
Shittu said, " a lot of people from the South West especially the state governments have been making repeated calls for true federalism. But, it is always a problem to define what true federalism means.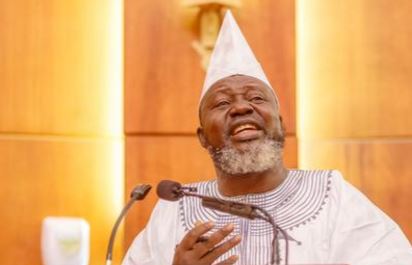 "Among the state governors making the call for true federalism are those who have not conducted local government elections. They have refused to conduct the election that would make them autonomous. They have always been appointing caretaker chairmen for the councils."
The minister who spoke on the topic entitled, "Psychology and the Change agenda" said, "A lot of times, most of the resources of the local government are controlled by these state governments. What examples are they giving. They should first provide good examples in their various states before clamouring for true federalism", he said.
While commending the anti-corruption stance of President Muhammadu Buhari he stressed that "change is important to leaders of governments, communities, corporations and nations around the world. In Nigeria, the change mantra of the administration of President Buhari is now widely known within and outside Nigeria. The change is expected to cover all spheres to cover all spheres of life"
Speaking earlier, the Head of Department of Psychology, Prof. Benjamin Ehigie highlighted several remarkable achievements of the department.
He said, "for the decade that has just passed, the department has recorded lots of achievements. Apart from those already mentioned, the department has produced 11 first class graduates, the 2015 winner of " most beautiful girl in Nigeria pageant, Miss Unoaku Temitope Anyadike and many others.
He listed some of the challenges of the department saying it includes structural space.