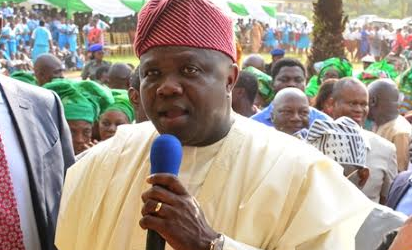 Gov. Akinwunmi Ambode of Lagos state
By Monsur Olowoopejo
Lagos—Due to the economic downturn, Governor Akinwunmi Ambode of Lagos State has slashed price regime of houses under Lagos Home Ownership Mortgage Scheme, Lagos HOMS, to allow residents apply for the scheme specifically when rent-to-own scheme commence December 9.
Vanguard gathered that the scheme which commenced under the previous administration was yet to be fully subscribed, even with the introduction of raffle and other strategies earlier.
With the reduction, two-bedroom flat, which was N7.2 million has been reduced to N3.5 million, while the one bedroom reduced to N2.3 million. Also, the room and parlour unit has also been reduced to N1.5 million.
Ambode, who announced the review in prices while inspecting Sir Micheal Otedeola Housing Estate in Odoragunshin, Epe and other ongoing construction within the axis on Monday, added that over 1, 000 additional housing units have been injected into the pool of housing units earlier provided by the state government.
He explained that due to economic recession, his administration felt the need to review the housing policies, saying it was the reason for the new policies which we aimed to ensure that housing is affordable to Lagosians.
Commissioner for Housing, Gbolahan Lawal, stated that the social welfare policy of the present administration in the face of the current economic downturn necessitated the need for the rent-to-own policy.
Meantime, Governor Ambode yesterday said the much awaited Health Insurance Scheme of the State would commence in early 2017, expressing readiness to partner with key players in the sector to use insurance to grow the Gross Domestic Product (GDP) of Lagos.
Speaking at the commissioning of the new WAPIC Insurance Corporate Head Office, located on Awolowo Road, Ikoyi, he said there was no question about the strategic importance of insurance to any economy, noting that his government was open to policies and initiatives that would make the sector to thrive in the state.
Earlier in his welcome speech, Chairman of WAPIC Insurance, Mr. Aigboje Aig-Imoukhuede said from his trips across Africa, there has never been any public functionary like Governor Ambode who understands the importance of the insurance sector, saying that the knowledge came out of the deep understanding of economics and the fact that insurance is the most important economic sector of the world according to modern day reality.