Philippine President Rodrigo Duterte has lashed out at the United States again and even called the Americans "monkeys" and "fools."
He was  reacting to news reports that the U.S. State Department had halted the planned sale of some 26,000 assault rifles to the Philippine National Police due to human rights concerns.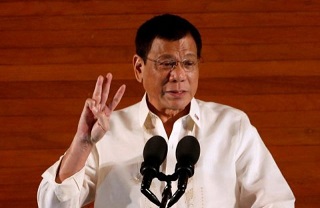 "Look at these monkeys. They're stopping the sale of 26,000 assault rifles to us. Son of a bitch. There are a lot of airguns. The Americans are fools," Duterte said.
He spoke  during the send-off ceremony of 17 Vietnamese fishermen who were caught poaching in waters in September in Sual town, Pangasinan.
Duterte also slammed the U.S. for intervening in the Philippines' affairs, adding it was the Americans who started the verbal war.
"Son of a bitch! I'm fuming mad. They started it first," Duterte added, recalling how the Americans treated Filipinos like "a dog on leash" after "living in the fat" of Filipinos during their 50 years of occupation of the Philippines.
Duterte said that he has lost respect for America. "That's my problem with America. They are rude to us that's why I'm rude to them," he said.
He reiterated that the Philippines is a sovereign country and should not be treated like a colony, adding that the U.S. treats the Philippines like a dog on leash that is thrown food if it follows orders from its master. "In our case, it's in the form of (foreign aids)," he said.
Duterte cited how the U.S. "destroyed" Iraq, "undermined" Libya, and now trying to destroy Syria.
"If somebody here could tell me a good rationale, or rationale if you may, tell me if what the U.S. is doing is right. In the case of Iraq, you destroyed a country, killed the leaders. No weapons of mass destruction found," he said.
It was the first time that Duterte laced his speech with expletives again after vowing that he would stop swearing after he said God had told him to stop cursing while on a plane from a visit in Japan.