.Bayelsa at 20: ' The federal assistance we deserve'
By Soni Daniel,  Northern Region Editor
As Bayelsa State turns 20 this month, Governor Seriake Henry Dickson speaks on issues affecting the state and the Niger Delta. According to the governor, his state needs more federal assistance to access the sea and land
How do you describe Bayelsa at 20, which incidentally coincides with Nigeria's 56th anniversary?
Indeed, it is a season of joy for me to preside over the state at this time in history. As you may be aware, Bayelsa was founded on the vision of bringing development and prosperity to a neglected Ijaw people in Nigeria.
The idea of Bayelsa was to give the Ijaw people a voice and a face. Clearly, everyone who is conversant with this area will know that the area known as Bayelsa today was the least developed in the old Rivers State and most people don't know that the challenges of development of Bayelsa and of the Ijaw nation are peculiar. And that is why before Nigeria's independence in 1957, the Willinks Commission described this as a special area that needs attention and focus in the emergent Nigeria.
Unfortunately, this area, which has been producing the wealth of our country, has been neglected completely and most people talk more about the political Niger Delta, which is synonymous sometimes with oil producing states and all of that, forgetting the core developmental challenges in the riverine coastal Ijaw.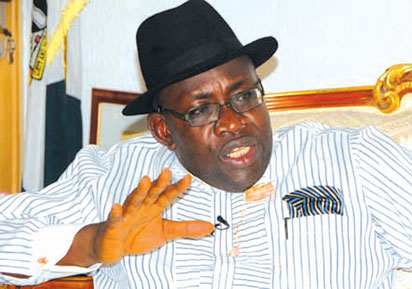 So, what does that mean to you as the governor of the state?
Indeed, the Bayelsa of today is one where we are addressing the basic foundational problems and issues of transparency in the management of resources, addressing education as the basis for the future of our states, investing in security, showing a paradigm shift, investing in modern infrastructures that would form a spring board for the industrialization of the state and for the diversification of the economy.
The future of Bayelsa depends on a diversified, robust, well developed manpower base, modern infrastructure and ultimately a state that is at peace with itself and the world. That is, the past, present and the future anchored on development, anchored on investment in the critical areas of security, education and diversification of the economy; agriculture, tourism, etc. The potentials of the state cannot be realised unless you have an educated citizenry. That is why our focus has been education, education and education.
That also explains why we are building a new university which some people are critical of. But we have no apology for doing that and I have told some people that the punishment for the complaint is for me to build more universities. My pledge to the people is that we will support all new educational institutions so that we can have a robust and enlightened citizenry capable of competing with the rest of the world.
What do you point at as the evidence of your leadership after your first four years in office?
I would say, with the greatest sense of joy, that historians and scholars now have something to write about our first term in office: We have deliberately restrained ourselves from the use of power, application of public authority but put a deliberate emphasis on prudent management of resources and transparency. These are not roads and bridges and buildings, but the fact that we have not used state apparatus to harass opponents despite the fact that I am one of the most criticised governors this state has ever had in terms of confronting challenges, going through unprecedented electoral contest but remaining steadfast, not intimidating, harassing, and dishonoring the people, killing and maiming some in the process.
In the last four years, we have spent close to N33 billion on educational infrastructure alone. These are the practical things on ground. The Bayelsa International Cargo Airport is 80% completed, funded solely by the state government because of its emphasis on development and the speed with which I and my team committed ourselves to turning around infrastructure. A lot of people are overwhelmed by our effort because they are not used to this type of thing. I am not surprised that some people have credited our projects to the Federal Government because they never believed a state could do what we have so far done in terms of physical development.
How can you be boasting of education as one of the major achievements of your administration when you have not been able to pay the school fees of your students abroad?
There is no doubt that we have challenges with the management and funding of our scholarship programme which we initiated in 2012 or early 2013. We did that when the resources were quite reasonable. Our plan was to send a number of our children abroad to acquire solid education free of charge. But no sooner than we started the scheme that the economy began to dwindle and that has really affected our resources. Even then, we still make some resources available to support our scholars. In the last three months, I have approved something almost every month to support them. This month we dealt with the medical students who have graduated from Eastern Europe. The last one I did was for the scholars in Lincoln University. I must confess that we have financial challenges but we are not going to abandon our children abroad because we have their interest at heart. We mean well for them and their future.
The way you speak gives the impression that perhaps there are no federal projects, completed or on-going, in Bayelsa?
I cannot say that there are no ongoing federal projects in Bayelsa. I am aware that the Federal Secretariat project and a Central Bank of Nigeria building, along the dual carriage way that we have established up to Oxbow Lake, are going on. I also know that the contract for the building of the Local Content Management Board Secretariat has been awarded. Of course, there is also the Federal University, Otueke and a Federal Health Centre. For all these, the government and people of the state are very appreciative to the Federal Government. But if you ask me, the kind of federal support that this state needs should be more robust than that.
This state needs Federal Government support to access the sea because the challenge of development of this area is the challenge of access and it is very expensive. Most of these projects so far provided give no access to the sea or land, which is what our state and people need most because of the difficult terrain in which we have found ourselves. Let me use this opportunity to call on the NDDC and Shell to expedite action on the road so that our people can drive on good road to Nembe. We put down N3 billion to support them in the first phase of the project.
The second phase is to link Nembe with Brass and we really need federal support that has been absent. We need the Federal Government to reactivate and re-visit, without further delay, the Brass LNG project, one key project which, if completed, would turn around the economy, not just of Bayelsa but of the entire Niger Delta.
Often, people refer to the LNG as the Nigeria biggest cash cow. So, why don't you have more cash cows and, by so doing, also open up the place and create jobs and bring in critical private sector presence to the state's economy?
Similarly, anyone in Abuja who is playing politics, talking to party people, talking to people to undermine security in Bayelsa because they think they are fighting us are actually enemies of the state.
In the Niger Delta, we should not allow one gun to go off, no shot should be fired, no kidnapping should take place because once these things happen, investors will go away and the economy of the Niger Delta would continue to plummet.
But, unfortunately, we have political leaders whose understanding of politics is violence. And in the present Federal Government, those are the people they encourage; those are the people they protect; those are the people they elevate.
All I am saying is that this state and the Niger Delta as a whole need more robust Federal Government intervention and investment. People are playing politics with security instead of working with the Federal Government to support our efforts to advance development in our little way.
What lies ahead of Bayelsa as you continue into your second term in office? Are you satisfied with your performance so far?
I am very satisfied and proud of what I and my team have been able to accomplish in spite of the distractions and challenges. For example, we won a free and fair election against all odds and, instead of our brothers and friends on the other side to say ' we tried but we could not succeed; congratulations and let's join hands and move' , they decided to distract us by going to the tribunal but we are through with that.
And in spite of all the challenges and with the short fall in our revenue, we turned Yenagoa into a huge construction site.
If you are coming into Government House, for example, people who left government when they enter here, they can hardly know their way. Most of these things you are seeing are new including the governor's office. The deputy governor had no residence until our government came in but he now has a befitting residence. The deputy governor also has no formal office, but a wing of the governor's office is now the deputy governor's office and with that office completed I think Bayelsa will not need a new governor's office for least 20 – 30 years because there are other challenges.
So sometimes when people look at the projects and they say state government cannot do all these, they are right but it is because of the passion, dedication and the commitment that the team has.
What would you want to be remembered for at the end of your service to Bayelsa State?
Honestly I have not given it any serious thought because I have time by the grace of God. I have not even clocked one year in my second term but broadly speaking I have always been someone who is committed to ideals, committed to ideas, committed irrevocably to the vision of our state and the potentials that this state holds for our people. I believe that in the process of doing my job, the people will applaud me if I have added value to their lives and that is what is important. This if not the first capacity I am serving and the records of my service to the people is there. I believe my people are fairly familiar with my style and what I stand for.
We hope that at the end of our service, history will remember us kindly and be fair to us and in the end it is the judgment of history, the judgment of posterity that will matter most. When people would be using the airport that we are building and that airport is bigger than the one in any South-South state and can take any cargo including the ones that are going to land in Lagos because they say that Port Harcourt and Enugu airports are too small for them.
When this diagnostics centre saves lives and the hospitals we are building in Ekeremo, Kayama, Ogbia and Okoroma and Sagbama and so on and so forth, the ones we have renovated and turned to a world class hospital in Brass, supporting the process in the renovation of the schools and upgrading our schools then they will remember that we have done our best for the state and its people.