By Chidi Nkwopara
Professor Wole Soyinka once wrote that: "It would be a distortion of history and an attempt to trivialize the trauma that the Igbo had undergone to suggest – as some commentators have tried to do – that it was the lure of oil wealth that drove them to seek a separate existence."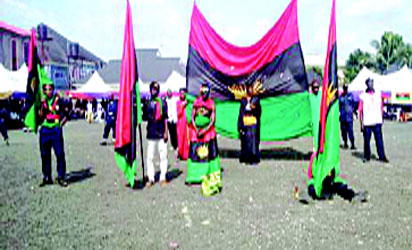 He then went on to add that: "When a people have been subjected to a degree of inhuman violation for which there is no other word but genocide, they have the right to seek an identity apart from their aggressors."
From all indications, the views aptly expressed by the Nobel Laureate years ago still prevail. The pro-Biafra activists are still being hounded, killed and maimed by armed security personnel. Gory stories are occasionally published in the dailies about the gruesome murder of Ndigbo in parts of Nigeria, by all manner of people, including Muslim fundamentalists and Fulani herdsmen, even in Igboland!
The sad thing is that majority of the murderers were never apprehended and the insignificant few that were arrested, were left off the hook by the court. The aggrieved Ndigbo has continued to not only lament but has equally insisted on a separate existence. This sums up why thousands of pro-Biafra activists, from all parts of Nigeria, stormed Owerri November 26, 2016, for the Dim Chukwuemeka Odumegwu Ojukwu memorial service.
Speaking at the event, Major Hamza Al-Mustapha, the former Chief Security Officer, CSO, to General Sani Abacha, advised Ndigbo to remain united and face their common problems with equanimity.
"In the absence of unity of purpose, Ndigbo will end up wasting their time and achieving practically nothing", Al-Mustapha said.
The former CSO said that "we equally feel the pain of Ndigbo", adding that there are palpable traces of poverty in every street in this land.
He lamented that there are very few rich people in Nigeria, who hardly pay commensurate tax, tithe or the Muslim zakat, pointing out that there was no reason why Nigerians should suffer in the midst of plenty.
According to him, Ndigbo have all it takes to lead the world, adding that Chief Ojukwu was a father, a leader and a committed military commander.
Speaking also, the founder of Odua Peoples Congress, OPC, Dr. Frederick Fasheun, said that Ojukwu has remained a celebrity long after his death, it was a clear indication that he still lives in the minds of his loved ones.
For the widow of the late Ikemba, Mrs. Bianca Ojukwu, Ndigbo hardly place their priorities right.
"The problem we have as a people is that our priorities are most times wrongly placed. A lot will change for the better if we get it right", Mrs. Ojukwu said.
Earlier in her opening speech, the Chairman of the event, Professor Anthonia Maduekwe, said that Ndigbo have come a long way, adding that Ojukwu wanted his people to fully attain their potential despite all odds.
South East Voice recalls that thousands of pro-Biafra activists and their friends from across the country were in Owerri to mark the day.