The Ooni of lfe,  Adeyeye Enitan Ogunwusi, has described Sir Olanihun Ajayi, an Afenifere leader and associate of the late sage, Chief Obafemi Awolowo, who died on Thursday, aged 91, as his unforgettable pillar of support, an exemplary pan – Africanist with unapologetic patriotism in the course of Yoruba emancipation, unity and progress.
Ogunwusi, in a condolence message, said that apart from being a dependable leader of Remo people of Ogun State, Ajayi had spent great part of his life as a pillar behind the throne of Oduduwa in Ile–Ife and a committed Yoruba patriot whose ideology of progressivism remained incorruptible till his glorious passage.
"I commiserate with the family of our beloved Papa Olanihun Ajayi, I commiserate with Remo people, I commiserate with the people   and government of Ogun State, I commiserate with the Yoruba race, I commiserate with the Nigerians and I also commiserate with the entire continent of Africa over the death of this exemplary leader who until his death remained a fantastic family man, a dependable Remo leader an exemplary cultural and political ambassador of Yoruba race, a Nigerian Nationalist per excellence with an undying spirit of pan – Africanism,"he stated.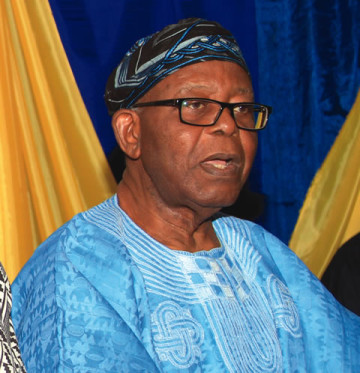 Also, yesterday, a former External Affairs Minister, Prof. Bolaji Akinyemi, said Ajayi's death evoked  mixed reactions "from one and all". Akinyemi said in his condolence message: "That he lived to a grand old age evokes a feeling of gratitude to God for the gift of longevity.
But the death also evokes concern and regret and sadness at the shrinking number of original nationalists who were active participants in the early life of this nation.
They were either active participants or/and eye witness to monumental events that shaped the political landscape of this nation. And in this age of make-belive historians, their narratives was the most valuable. And now, their rank has diminished by the death of Papa Ajayi".
In his own tribute, Senate President Bukola Saraki described the death as a big loss.
According to him, Ajayi belongs to one of the surviving nationalists whose counsel is needed at this point to solidify the nation's democracy.
In a statement by his Special Adviser (Media and Publicity), Yusuph Olaniyonu, Saraki lauded the late Ajayi for his immense contributions to the stability and social-political development of the country.
Meanwhile, the governor of Osun State, Mr Rauf Aregbesola, said the deceased  worked for the progress of the Yoruba race and the country as a whole. Aregbesola  described Ajayi as a giant and one of the surviving disciples of the Awolowo school of thought. According to him, like the late Chief Obafemi Awolowo, the late politician advocated  true federalism and resource control as panacea for the political imbalances in the country.