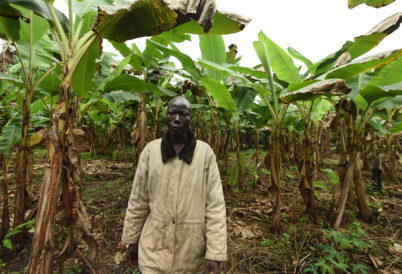 A farmer cultivating
By Gabriel Ewepu
ABUJA- THE Minister of Agriculture and Rural Development, Chief Audu Ogbeh, has assured Nigerians that no will be land hijack by big farmers or politicians in the 15, 000 Agriculture City initiated by the Federal Government.
Ogbeh cleared the doubt while answering questions from journalists about the protection of young people who wants to subscribe land for agribusiness in the area mapped out for the project.
He said: "We will be equitable in allocating the land and we are talking about 15, 000 hectares, and I don't like the idea of give one person 10, 000 hectares which is unfair. I know that the youth is the key, and the big timers are very few and they can't take everything.
"So there is no need for Nigerians to fear about that, and we promised to ensure everybody get land there and become a big time player in the sector."
He also explained that those young farmers who get farming plots there will engage in fish production, poultry, livestock management and grains production.
Adding that the Ministry will subsidise land acquisition for the youths and also engage in buy back clause of the farm products produced from the farms, thereby creating market for the products.
Meanwhile, to continue agricultural policies in the country and for sustainability the Minister proposed farm laws that will not allow incoming administrations to jettison good policies for the interest of the people and sector.
"For sustainability and continuity of the project; we may do what is done in the United States of America, USA, they call it the farm laws. No regime can throw away the policies of the last regime, and can't jettison what they have done. We have not gotten to that point but we may do it.
"Like this administration we did not throw away what my predecessor started and left rather we continued with it and also deepened some policies and projects in order to avoid policy somersault", he stated.