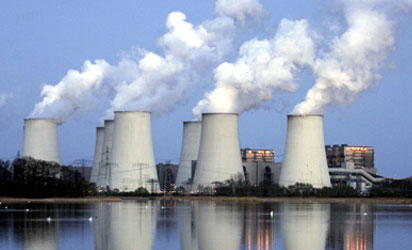 Nuclear power Plant
By Prince Osuagwu
Russia's ,State Atomic  Energy Corporation, Rosatom, has, said that Nigeria should add nuclear energy to its energy mix to harness abundant benefits and most importantly improve its current power situation.
Rosatom through its Vice President, sub-Saharan Africa, Mr. Viktor  Polikarpov, after a presentation at the ongoing West African Power Industry Convention, WAPIC at Eko Hotel and Suites, Lagos, said that Russia was in a similar situation with Nigeria until it approached nuclear energy.
"According to him, an optimal energy mix should take into consideration the economy, security and environmental impact. However, not many sources could bring together these three factors.
"Hydrocarbons are economically viable but very bad for the environment, and natural phenomena can disrupt energy generation via renewables," he said.
Nuclear is the only power source that is capable of ticking all three boxes and balancing any energy mix. In order to combat the current energy challenge faced by Nigeria and indeed West African countries, there is need for access to affordable and clean baseload power," he added.
Polikarpov highlighted that outside of South Africa, Sub-Saharan Africa only generates 28 Giga Watts of power. His words: "This has had severe economic impact on business development in the region. The World Bank estimates that power outages reduce the GDP growth of Sub-Saharan countries by 2.1% per year.
Again, less than 50% of households in Nigeria have access to electricity, on top of this, businesses in the country continue to struggle to gain access to the grid. "The country is spending huge sums of money every year to run off-grid diesel generators," which negatively affect environment" said the Rosatom spokesman.
He described nuclear power as a reliable and an affordable source of base load power, saying "If the price of uranium doubles, for instance, the cost of electricity produced by nuclear will only increase by roughly 5%, which cannot be said about conventional energy sources."
He admitted that Rosatom signed inter governmental agreement with Nigeria recently to develop the country's nuclear energy and form frame work for going nuclear, full blast. "We signed the intergovernmental agreement in 2012 but unfortunately the economic condition has not been favourable, so we decided to do the simplest thing, which is building a nuclear research centre and nuclear power plant.
The plant will boost Nigeria's image and reputation as one of the countries of the world with nuclear power. Again, it will boost the medical and health sector of the country because it will help to make accessible cancer treatment in Nigeria".