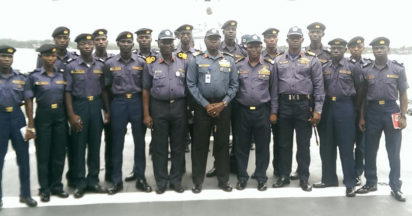 Rear Admiral James Oluwole (centre) with Officers of the Eastern Naval Command during the flag off  of Operation Sharkbite onboard NNS Okpabana at Onne seaport
By Jimitota Onoyume, Port Harcourt
For two days the Nigerian Navy showed its might over oil thieves and pirates on the maritime environment in the Niger Delta when it launched its exercise SharkBite. Naval flagship, NNS Okpabana, three other capital ships and a naval helicopter were among fleets in the navy deployed for the exercise. The three other ships were NNS Burutu, Sagbama and Ologbo.
Four hundred officers and three thousand ratings were trained during the exercise which lasted for three days,  between   Thursday and Saturday.
Flag Officer Commanding Eastern Naval Command, Rear Admiral James Oluwole   while flagging off the exercise    onboard Nigerian Navy Ship Okpabana at Onne seaport, Rivers state said the exercise   will guaranty safety of the nation's maritime environment. "It is a known fact that the crude oil which is the mainstay of our country's economy has suffered low pricing regime in international market.
"The situation is worsened by the vandalism of critical oil and gas infrastructure by militants, plunging the nation into recession. Consequently,   the Nigerian Navy more than ever before, must be in the best position to secure critical oil and gas infrastructure both ashore and offshore for socio economic activities to thrive in the marine domain".
He said  400 officers, 3000 ratings will be trained to effectively combat sea piracy, illegal bunkering activities
Rear Admiral Oluwole said the exercise   covered a distance  of 24000 nautical miles on the waterways, stressing that at the end    the navy will be better positioned to rid the region of miscreants destroying national assets.