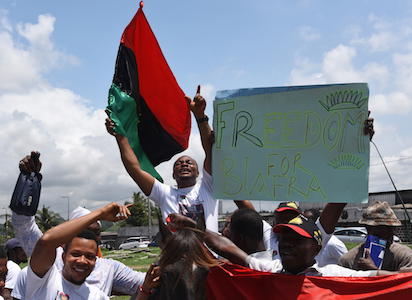 Demonstrators wave flags and hold a sign reading "Freedom for Biafra" during a protest calling for the release of pro-Biafra leader Nnamdi Kanu, on September 23, 2016, in the Abidjan suburb of Treichville. Near one hundred Biafran Nigerians protested on September 23 in Abidjan, calling for the release of their leader, Nnamdi Kanu, according to an AFP photographer.
By Vincent Ujumadu & Chimaobi Nwaiwu
The Indigenous People of Biafra, IPOB, and its Directorate of State, DOS, yesterday, alleged that the military is involved in ethnic cleansing against the people of South-East and Biafrans in general in the name of maintaining security.
The group wondered why the military will be killing non-violent agitators who do not carry arms, when they are not using the same arms and level of force on killers like Boko Haram insurgents.
IPOB, in a statement by its Media and Publicity Officer, Mr. Emma Powerful, said: "The military has exhibited the greatest level of cowardice by denying that they did not shoot and kill peaceful IPOB protesters.
"The blood of the people they killed will continue to hunt them. They are restless and that is why they are denying the evil and senseless killings."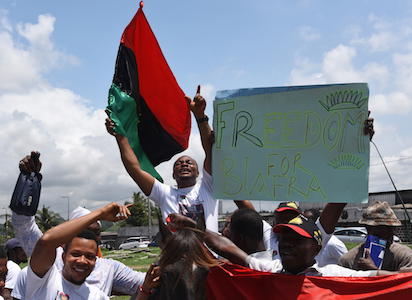 Says Army's denial laughable
IPOB described as laughable the denial by the Nigerian Army, saying the incident was contained in video recordings currently circulating all over the world.
Powerful said that IPOB could supply the Nigerian Army copies of the video if requested, instead of making unnecessary denials.
He said: "The Indigenous People of Biafra condemns the relentless denial of the killing of the members of IPOB by  soldiers and other security agencies.
"The denial that they did not shoot and kill peaceful IPOB protesters means that the entire Nigerian Army pretended that it did not see the barbaric crimes committed against members of IPOB during the peaceful demonstrations in Biafraland.
"Prominent leaders and countries in the world and those who don't have the videos for the killings should go online and watch the heinous crime against the peaceful members of IPOB during the peaceful rallies and demonstrations in all the Biafra cities of Aba, Onitsha, Owerri, Igweocha (PH), Calabar, Uyo, Asaba, Enugu, Bayelsa and other cities."