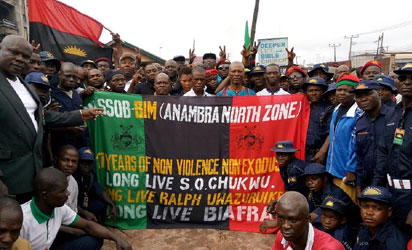 Members of the Movement for the Survival of the Sovereign State of Biafra (MASSOB) during their rally to mark the 17th anniversary of the movement, yesterday, in Awka, Anambra State.
By Nwabueze Okonkwo
ONITSHA – Over 200 members of the Movement for the Actualization of Sovereign State of Biafra/Biafran Independence Movement, MASSOB/BIM from seven local government areas of Anambra South Senatorial zone at the weekend converged on Industrial City of Nnewi, Anambra state to celebrate the victory of American President-elect, Mr Donald Trump.
The members who assembled under the auspices of Biafran Clergy Movement, BCM, also prayed fervently for Biafra to come soon.
MASSOB/BIM's Director of Religion for Anambra South Senatorial zone, Apostle Akunne Chukwuemeka who led the prayer group, said the directive was from their national leader, Chief Ralph Uwazuruike, adding that the event equally went on simultaneously in all the three senatorial zones of the State.
Citing the Book of Exodus chapter 9 verse 1, Apostle Chukwuemeka said the prayer summit was to congratulate the American President-elect, Trump on his electoral victory and to ask "Pharaoh" to let our people go. He said there was nothing Nigerian government could do to stop Biafrans now from actualizing their freedom which he said was only few steps to accomplish.
According to him, "As God directed Moses to tell Pharaoh to let the Israelites go, so had the Nigerian government been directed to let the Biafrans go, adding, the election of Trump as the next American President was a prayer answered for Biafrans. Since Mr Trump is our choice, who will say no to Muslim colonization. It was the prayers of the Biafrans that stopped Hilary Clinton from winning the Presidential election".
He therefore urged all Igbo clergy, irrespective of their denominations to begin to go down on their knees to pray for early emergence of the Republic of Biafra and spiritually destroy any weapon fashioned against the actualization of the sovereign State of Biafra.
Another preacher at the summit, Sylvester Obed, Director of Religion in Nnewi South council area identified Nigerian government as a polluted one full of corruption, nepotism and all manner of evil.
According to Obed, "Such a government would not be found in Biafra and I am urging men and women of God in Biafra land to always live by example, now that we are about to enjoy your new country."
He said that Biafra would be a far better country "where Jesus will reign supreme devoid of corruption".
In his own speech, Apostle Godwin. C.Igwilo, called for more sensitization of ministers of the gospel in Biafra land to join in the spiritual warfare for the arrival of the Biafran country.
Some the members present at the prayer summit were Apostle Dr John Columbus, Apostle Samuel .O. Maduabuchukwu, among many others.