By Ebun Sessou
lagos—The Lagos State House of Assembly has approved death sentence for kidnappers, whose victims die in their custody.
This was an amendment to a bill sponsored by the Speaker, Mr. Mudashiru Obasa and presented on the floor of the House by its Chairman Committee on Judiciary, Mrs. Funmilayo Tejuosho some weeks ago.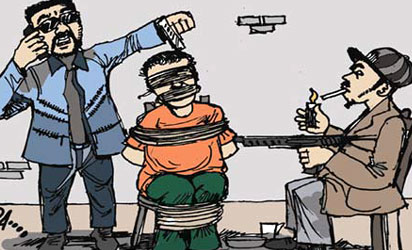 The report which was later debated at the stakeholders meeting level was yesterday presented at the plenary.
The Bill is entitled; "A Bill for a law to provide for the prohibition of the act of kidnapping and for other connected purposes."
According to the bill, kidnappers, whose victims did not die in their custody will be sentenced to life imprisonment.
The bill states that any person, who kidnaps, abducts, detains, captures or takes another person by any means or tricks, with intent to demand ransom or do anything against the victim's will commits an offence, and liable on conviction to death sentence.
However, the lawmakers amended some sections of the law, while debating the report of the committee and agreed that the death sentence should only be imposed on those, whose victims die in their custody.
Attempt to kidnap is also criminalised under the bill and it was suggested that such a person would be committed to life imprisonment.
…Asks gov to secure state
Meantime, the lawmakers also advised the state Governor, Mr Akinwunmi Ambode to properly secure the state against kidnapping and other criminal activities.
This became a resolution of the House through the Lagos State House of Assembly Motion No. 43 initiated by the Majority Leader, Mr. Sanai Agunbiade and others and read during yesterday's plenary.
It was resolved through the Motion that Governor Ambode should take all necessary steps aimed at involving the Nigeria Air Force, Nigerian Navy and the Nigeria Army in ihis attempt to  checkmate kidnapping in the state.
He was directed to arrange with the state Commissioner of Police, Fatai Owoseni and heads of other security agencies increase security patrol and to station Armoured Personnel Carriers (APC) and other security equipments at Maya, Epe and other strategic areas of the state.
The governor was also enjoined to ensure prompt prosecution of those arrested in connection with gang wars in the state.