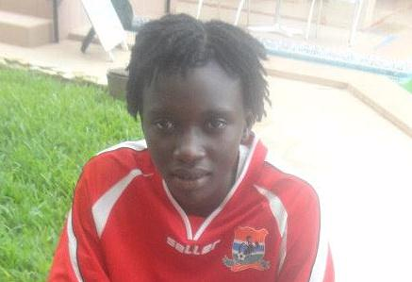 Fatim Jawara
By John Atuke with agency report
Gambian women national team keeper, Fatim Jawara-Jawara has died in a boat accident on the  Mediterranean en route to Europe last weekend.
Jawara was one of the many African migrants taking the dangerous route to Europe from Libya with the hopes of reaching Lampedusa, south of Italy. The Gambia Football Federation in a release confirmed the death of the player with regrets, after the agent the player paid to facilitate her departure from Libya contacted the GFF.
Jawara was part of the Gambian team that made history, putting the country's name on the map in the women's U-17 World Cup in Azerbaijan in 2012. She played for first division champions, Red Scorpions and starred in Gambia's thrashing of a visiting Scottish female side Glasgow Girls FC months ago.
Up to 3,740 migrants have either been confirmed dead or missing in efforts to cross to Europe by boat in October 2016, according to the United Nations refugee Agency.
"I received the news today (yesterday) and it has really shocked me. The young girl is a talent and on the move for greener pastures but the way she died is just shocking and sympathetic. We at the GFF are very sad about the development and on behalf of the Football Federation, I want to send our condolences to the family of the girl and her former club Red Scorpions" Gambia football boss, Lamin Kaba Bajo said.