By Chris Ochayi
Minister of Works, Power and Housing, Mr. Babatunde Raji Fashola has said that use of effective communication was vital in resolving major crisis confronting the power sector of the economy. Fashola, spoke on the backdrop of difficulties encountered by contractors and officials of the ministry in the course of construction of the recently inaugurated 330KV switching station in Essien Udim in Ikot Ekpene Local Government Area of Akwa Ibom State.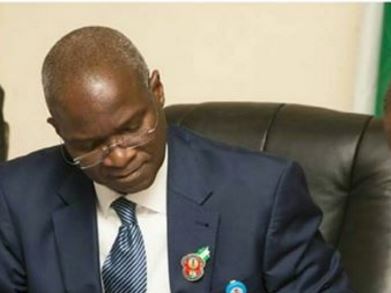 The minister noted problems of the sector are multifaceted, adding, "Not all problems affecting power sector are engineering problems. Fashola made a stark revelation of an ugly incident where one of the communities which the power transmission line traverse its land used charms and all sorts of fetish to chase away contractors.
Fashola, who further emphasised on important of communication as panacea for resolving issues recalled an incident when just a phone call he made to business mogul, Chief Mike Adenuga, resulting in dismantling of Globacom tower obstructing Alaoji power line.  According to Fashola, "And in this kind of problem like you have heard from the engineering firms they all multifaceted problems, and not all of them are engineering problems.
"The engineers can do their work if they have the skills but there are certain skill sets that engineers cannot deal with. One of them is the litigating matters in court."  He recalled that, "There was a court dispute on this matter that engineers could not solve. But when I got involved, I am a lawyer, to get the case out of court. And the community in Umunta Abia State they were in court until we filed terms of settlement.
NDPHC harps on project's significance
Meanwhile the Managing Director of Niger Delta Power Holding Company Limited, NDPHC, Mr Chiedu Ugbo, has expressed satisfaction over the state of recently commissioned 330kV switching station in Ikot Ekpene, Awka Ibom State. Ugbo listed the components of the facilities of the NIPP project to include, ''the 35KM 330kV Alaoji Substation to Ikot-Ekpene Substation Double Circuit line to evacuate power from NIPP Alaoji Power Plant "The 70.3KM 330kV Double Circuit line from Calabar to Ikot Ekpene to evacuate power from NIPP Calabar Power Plant.
The 162km 330kV Double Circuit line to evacuate all power arriving from Ikot Ekpene switching Station to the grid at Ugwuaji, "The 12 circuit Ikot Ekpene 330kV switching station will serve as the central switching hub for receiving generated power from four generating locations at Alaoji, Afam, Calabar and Ikot-Abasi respectively.
General Manager, Communications and Public Relations of NDPHC, Mr Yakubu Lawal, quoted Ugbo in a statement as saying that the switching Station will wheel all the power to the grid via the 330kV Double Circuit lines to Ugwuaji, New Haven and the rest of the grid connecting Makurdi and Jos in the north central zone of the country.