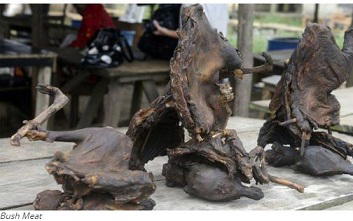 Bush Meat
Some bush meat sellers in some major markets in Lagos have said the business is booming again barely two years after the country was declared Ebola Virus Disease free.
Some of the bush meat sellers told newsmen on Saturday that they were fully back to their business.
According to them, their customers, who deserted them because of fear of contracting Ebola, are back and they are experiencing more patronage.
Mr Aminu Badaru, a bush meat vendor at Ajegunle-Ikorodu Road, a popular road side market along Ikorodu axis known for bush meat business, said he had been experiencing high patronage.
Badaru said he is now making more money compared to when there was EVD outbreak.
"I lost all my customers due to the warnings that people should desist from buying and eating  bush meat as they were the major carriers of the disease.
"But now, I have started experiencing high patronage," Badaru said.
Also, Mr John Tanko, a supplier of bush meat in the popular Iddo-Oyingbo market, said he stopped the bush meat business to source for another means of livelihood.
"I have stopped this business during the outbreak of the disease, but early this year I started selling it again, in fact, I have more customers than before," he said.
Another bush meat hawker, Mrs Aina Tairoye, also said that her market was booming since there were no cases of Ebola Disease.
Tairoye said most restaurants who had stopped buying bush meat for their pepper soup business had started calling her for deliveries.
She, however, expressed her delight that the business had gained high patronage.
Mr Ibrahim Thomas, another road side bush meat seller in Epe Area of Lagos, applauded the Federal Government for taking prompt measures to curb the diseases.
"I thank our government for helping, we Nigerians, to curb the spread of the disease. I don't have any other means of livelihood apart from this business.
"Now, I have more customers who patronise me now and I make more  sales," Thomas said.
The World Health Organisation (WHO) warned people to avoid eating bush meats as most of them are the major carrier of the Ebola Virus disease.
But, given Ebola's animal origin, it is perhaps not surprising that bush meat has been cited as a core danger associated with the outbreak.
Bush meats from bats to antelopes, squirrels, porcupines , monkeys,grasscutters, among others.
A public health expert, Dr Azeez Bada, advised  people to observe basic hygiene principles such as proper hand washing with soap and water and use of hand sanitisers.
Bada listed the symptoms of the disease to, include fever, sore throat, muscle pains, headaches, nausea, vomiting, diarrhoea, severe internal and external bleeding at the advanced stages of the disease.
He, however,  advocated prompt medical attention for the sick.