By Onozure Dania
Lagos—A Federal High Court Judge in Lagos yesterday lambasted the Economic and Financial Crimes Commission, EFCC, over the way it carried out its probe on Justice Rita Ofili-Ajumogobia.
Justice Muslim Sule- Hassan while delivering judgement in a N50million fundamental rights enforcement suit instituted by Justice Ofili-Ajumogobia against the commission over her prolonged detention urged the EFCC to be professional in carrying out its duties.
Justice Ajumogobia, in the fundamental rights enforcement suit, is asking among other things,for an order of the court declaring that her continued detention by the anti- graft agency is illegal.
However, Justice Hassan while noting that though the EFCC is vested with powers to arrest and detain any citizen suspected to have committed any offence, said such powers must be exercised with caution.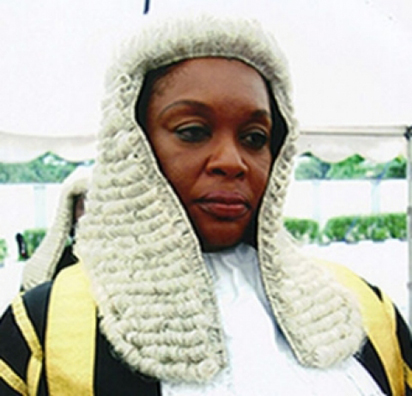 The judge quarried the rationale behind the revocation of the administrative bail granted to Justice Ajumogobia by the EFCC on October 22, 2016, when she is not a flight risk.
He said: "The respondent should have exercise restraints in revoking the bail earlier granted the applicant. There was no evidence that the applicant is a flight risk."
"The respondent is hereby counseled to be professional and to always exercise caution and restraints in the exercise of its powers".
The judge, also disagreed with Justice Ajumogobia that the remand order obtained by the EFCC from a magistrate court on the 10th of November, 2016 is unlawful, illegal and a violation of her fundamental human rights.
According to Justice Hassan, the remand order was issued by the magistrate court pursuant to Section 264 (1) of the Administration of Criminal Justice Law of Lagos State, 2011.
The judge also refused to make any order as to the applicant's request for bail from the EFCC's custody since she had already been granted bail by Justice Hakeem Oshodi of an Ikeja High Court upon her arraignment at the court on Monday.
"The issue of the applicant's bail from EFCC's custody has been overtaken by the event of her arraignment at the Lagos High Court and her subsequent release on bail by the court.