By Soni Daniel, Abuja
The Economic and Financial Crimes Commission, has questioned the brother of a Federal High Court judge, Justice Rita Ofili-Ajumogobia, over the movement of hard currency into the accounts in a commercial bank.
The suspect, Donald, was questioned by operatives of the EFCC in Lagos on Saturday over the discovery of transfers into his account domiciled in a Nigerian commercial bank.
"We invited Donald to our Lagos Zonal Office to explain to our operatives how the huge sum of money in foreign currencies was moved into his account.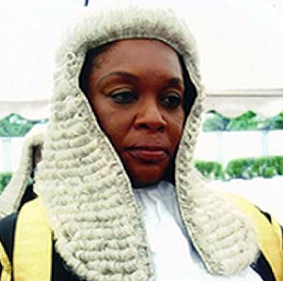 "We discovered the account while investigating the sister, Justice Ofili Ajumogobia, who has been with us over some payments traced to her accounts by some persons.
"We have detained the suspect in our Lagos Office and we will get to know how he came about the money," one of the officials of the commission said last night.
It will be recalled that Justice Ajumogobia has told the EFCC last week that a prominent oil tycoon granted her a 'friendly loan' of N18 million to buy a house in London but could not produce the papers relating to the transaction, leading to the questioning of the oil magnate.
An EFCC source told Vanguard that the commission stumbled on the N18 million wired to a foreign account from the judge's domiciliary account for the purchase of a property in the United Kingdom.
"Justice Ajumogbobia owned up to the money but claimed it was a loan obtained privately from a family friend.
"The 'family friend', who is a Chairman of an Oil and Gas Company from where the funds emanated, has been invited by the Commission for questioning. So far, he had told operatives that the money was an assistance he rendered to her.
Justice Rita Ofili-Ajumogbobia is among the six judges being investigated by the Commission for alleged corruption alongside some senior lawyers.
The other five judges include Justice Nasiru Mohammed Yunusa, Justice Hydlezira A. Nganjiwa, Justice Uwani Abba Aji, Justice Agbadu Jamus Fishim and Justice Musa H. Kuriya.