Abuja— The Senate, yesterday, approved President Muhammadu Buhari's request to amend the 2016 budget by re-assigning funds initially appropriated for special intervention programme, to address urgent recurrent and capital items.
The Senate, however, added N33 billion to the president's request.
Buhari had in August written the National Assembly,  seeking to vire N180.8 billion from N500 billion originally meant for the administration's special intervention programme to fund capital and recurrent items in various ministries, departments and parastatals.
In giving approval, the Senate increased the figure from N180 billion to N213 billion. The House of Representatives had earlier raised its version of the amendment to N208 billion.
Both chambers are expected to harmonise.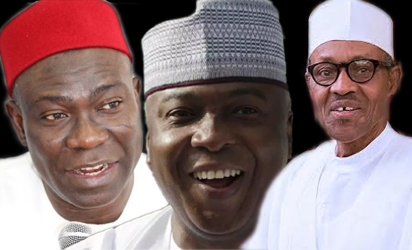 The Senate's approval, yesterday, followed the presentation of the report on the request by the Chairman of the Appropriations Committee, Danjuma Goje.
The Deputy Senate President, Ike Ekweremadu, noted the unconstitutionality of the president's request, saying President Buhari should have proposed a supplementary budget, instead of"virement," which he said was "military terminology."
Regardless, he urged the Senate to approve the request.
In his remarks, Senate President Bukola Saraki said the approval underscored the smooth relationship between the Executive and the Legislature.
He added that the approval would ensure funding for capital projects especially.
In Buhari's letter covering the request, he highlighted areas for which more funds were needed.
"This request has risen due to a number of reasons, including shortfalls in provisions for personnel costs, inadequate provision ab nitio for some items like the amnesty programme, continuing requirements to sustain the war against insurgency, and depreciation of the naira.
"However, considering the fact that the budgeted revenues are running behind target largely due to renewed violence in the Niger Delta, and there are no supplementary revenue sources, the most viable option for now is the virement of appropriated funds from heads and sub-heads that may not be fully utlised before the end of the year.
"The security-related lines in the service wide vote, specifically operations internal for the armed forces (N13bn) and operation Lafiya Dole (N8bn) have been totally released while the Nigerian air force needs about (N12, 708, 367, 476) to cover the foreign exchange differentials in the procurement of its critical capabilities.
"The contingency vote of N12bn has a balance of only N1, 827, 570, 443. It is considered necessary to augment this vote in the light of frequently emerging contingencies.
"Only N20bn (already fully released) was provided in the 2016 budget for the Niger Delta amnesty programme. Consequently, the allowances to ex-militants have only been paid up to May 2016. This is creating a lot of restiveness and compounding the security challenges in the Niger Delta."
He also requested to augment provisions for the NYSC to cater for corps members mobilised for national service this year, and for Unity Schools' meal subsidy; and the  Public Complaints Commission that has owed staff for months.