Gov. Simon Lalong of Plateau on Monday in Abuja, enjoined Gov. Olusegun Mimiko of Ondo to stop running to President Muhammadu Buhari for solution to his party's internal problems, the Peoples Democratic Party (PDP) as the president is not the INEC boss.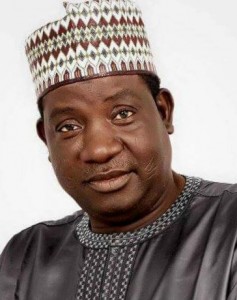 Lalong said this during an interview with  State House correspondents after he formally presented Chief Rotimi Akeredolu, the All Progressives Congress's gubernatorial candidate in Ondo, to President Buhari.
According to him, Buhari is the President of Nigeria, and neither a PDP member nor INEC chairman.
"Let me say it was even wrong for them to start running to Mr President,to help them solve the problem of PDP in their party, Mr President is the President of Nigeria and he is not a member of PDP.
"Even when we have problems in APC, we don't run to Mr President, if he (Mimiko) has a problem in his state, he is the governor, let him stay there and resolve the matter.
"It is a matter between PDP, and those matters are in court, so, why should you run to the President. Is the President the chief judge of Nigeria? He is not the INEC chairman either."
Lalong, who is the Chairman of the APC Governorship campaign in Ondo, revealed that President Buhari has endorsed the candidature of Rotimi Akeredolu as APC candidate for the election.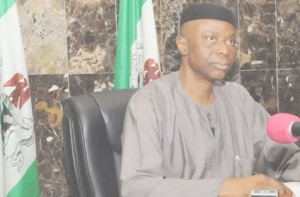 Gov. Mohammed Abubakar of Bauchi and Gov. Badaru Abubakar of Jigawa, who were in the Presidential Villa, told the State House correspondents that they discussed security issues with President Buhari.
"We have come to confer (which is usual) with Mr President. But as you can see, I am here with the governor of Jigawa, as you know we share a border with Jigawa.
"We have come to discuss some security concerns with the President to solicit for his support for us to effectively ensure security in the two states, this is basically what we have come to discuss,'' Gov. Abubakar said.
On Northern governors' trip to US, Abubakar said that the governors were invited by the United States Peace Institute based in Washington.
According to him, the United States' government had a great concern in the northern part of Nigeria.
"They believe whatever situation that exists in the northern part of Nigeria have a multiplier effect on the whole nation.
"So, if you are able to solve the problem before it becomes a national problem, it will help, we have discussed with them the root causes of insurgency and illiteracy, poverty, lack of empowerment of youth and women.
"These are points we have discussed and the issues of IDPs in Borno, Bauchi, Taraba, Gombe.
"They have indicated their concern for the humanitarian crisis and especially about the situation of children in the IDP camps, and we have solicited for their immediate support so that we can overcome the challenges,'' he added.