By Joseph Erunke
ABUJA-AS part of efforts aimed at reducing the high level of civilian casualties being recorded in the ongoing war against insurgency in the North East, the British military has begun training of Nigerian soldiers on mitigation of collateral damage.
The development came as the Defence Headquarters in collaboration with the Centre for Civilians in Conflict, CIVIC, also began a multi-stakeholder high level dialogue on strengthening civilian protection and harm mitigation policy practice.
The training on mitigation of collateral damage is also aimed at enhancing the understanding of the Nigerian military personnel of the processes required for intelligence based targeting with a view to minimizing collateral damage.
Delivering a keynote address at the opening ceremony of the programme, yesterday, in Abuja,Chief of Defence Staff, CDS, General Abayomi Olonisakin, said the counter insurgency operations in the North East have contributed significantly to the degradation of Boko Haram capability and restoration of wealth of governance over the entire North East.
He noted that collateral damage remained one of the challenges being encountered in the ongoing kinetic operations to further isolate the insurgents and deny them the freedom of action.
He stressed that while efforts were being made to avoid collateral damage, the techniques for mitigation varied depending on the theatre of operation and the service involved.
Olonisakin, who was represented at the occasion by Major General Ahmed Muhammed,Chief of Training and Operations, Defence Headquarters, disclosed that having reviewed the past operations, the military had identified the need to enhance "our planning capability to manage and to assess collateral damage associated with operations.
While thanking the British Military Training and Advisory Team for the training cooperation between Nigeria and Britain, Olonisakin said the selection of officers for the course cut across operational and tactical levels because according to him, it was expected that on returning to the field, the trained personnel should be able to synergise with the planning cells of their respective services headquarters.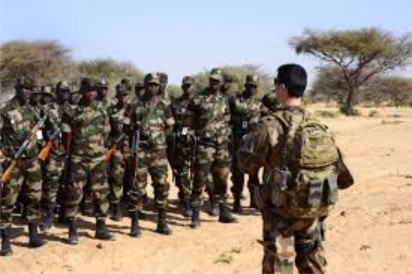 Speaking at the inter-agency dialogue on strengthening civilian protection policy and practice, General Olonisakin, noted that civilian harm remained a tragic reality in conflict especially without clear battlefields where it becomes difficult to distinguish between combatants and civilians.
"They may face daily threats of violence and death as they find themselves inadvertently caught up in the middle of the conflict. While some out rightly lose their lives as a consequence of the conflict, others are forcefully displaced thereby losing their means of livelihood and properties, "he said.
The Chief of Defence Staff, who said protecting civilians during conflicts was important, as according to him, it facilities post conflict development assistance and integration besides the creation of a conducive atmosphere for humanitarian organisations to operate in the conflict areas, said despite the best intentions military men and women in the counter terrorism and insurgency in the North East and the South South, "incidental or accidental harm to innocent civilians can still occur.
Represented also at the event by Rear Admirer Andrew Dacosta, Chief of Administration, Defence Headquarters, General Olonisakin said the implementation of civilian protection measures would better position the military to achieve its objective of restoring security, while minimizing casualties among "our personnel and preventing incidental harm to civilians."