While the Super Falcons are pressing on with their quest to win the Africa Women Cup of Nations, South Africa's Banyana Banyana players are seething with revenge, as the two teams clash in today's semi-final in Limbe, Cameroon.
The Falcons have on many occasions outclassed their South African opponents. In nine games, the Banyana Banyana have won only one, and that was in the 2012 AWCON in Equatorial Guinea when the Falcons lost 1-0.
In today's match, the South Africans are doing most of the talking and they have confidence they can beat the Nigerian women whose only test so far in the tournament was from the Black Queens of Ghana.
"We have to first prepare ourselves mentally because we know that it's war whenever we meet them," Banyana Banyana midfielder, Noko Matlou said.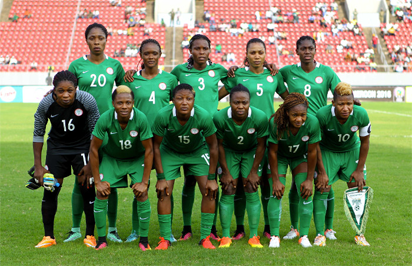 "We expect the fans in Cameroon to be behind us like they have done, we will be in a good position because they will continue to back us against Nigeria. Having them in our corner will will frustrate Nigeria."
The Super Falcons have been dubbed tournament favourites courtesy of their pedigree. They have scored 11 goals while conceding only one in the tournament, which they have won a record seven times.
South African captain Janine Van Wyk also expressed similar optimism thus: "The competition starts now and from here on it is war. It is going to be war, war, war… If we want it badly enough, then we have to show it. We have overcome them before and we can do it again,"
But Super Falcons coach, Florence Omagbemi said that her team are well and ready for the Banyana Banyana challenge.
"We came to Cameroon to defend our title. We are taking the matches one at a go. The competition has moved from the group stage to the knock stage now, and there is no room to correct mistakes once you are beaten.
So, we will approach the semifinal with South Africa with a different idea that can give us victory. The Banyana Banyana are a great team any day, but I am sure the Super Falcons will cage them here."