By Chioma Gabriel & Emma Nnadozie
Amnesty International, yesterday, came out with a report stating that the Nigerian security forces led by the military, embarked on a chilling campaign of extrajudicial executions and violence resulting in the deaths of at least 150 peaceful pro-Biafra protesters in the South Eastern part of the country.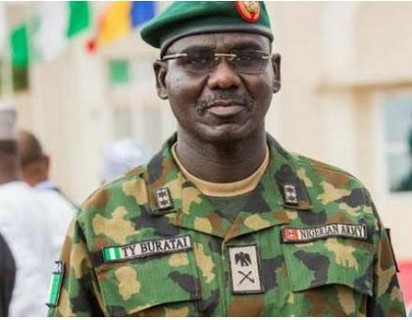 Attributing their findings to an indepth investigation it carried out, the international body stated that analysis of 87 videos, 122 photographs and 146 eyewitness testimonies relating to demonstrations and other gatherings between August 2015 and August 2016, consistently showed that the military fired live ammunition with little or no warning to disperse crowds. It also finds evidence of mass extrajudicial executions by security forces, including at least 60 people shot dead in the space of two days in connection with events to mark Biafra Remembrance Day.
"This deadly repression of pro-Biafra activists is further stoking tensions in the South East of Nigeria. This reckless and trigger-happy approach to crowd control has caused at least 150 deaths and we fear the actual total might be far higher. The Nigerian government's decision to send in the military to respond to pro-Biafra events seems to be in large part to blame for this excessive bloodshed. The authorities must immediately launch an impartial investigation and bring the perpetrators to book," said Makmid Kamara, Interim Director of Amnesty International Nigeria.
Extrajudicial executions
Amnesty International further stated in their report that: "By far, the largest number of pro-Biafra activists were killed on Biafra Remembrance Day on 30 May 2016 when an estimated 1,000 IPOB members and supporters gathered for a rally in Onitsha, Anambra State. The night before the rally, the security forces raided homes and a church where IPOB members were sleeping. On Remembrance Day itself, the security forces shot people in several locations. Amnesty International has not been able to verify the exact number of extrajudicial executions, but estimates that at least 60 people were killed and 70 injured in these two days. The real number is likely to be higher."
Stating that they have reviewed videos of a peaceful gathering of IPOB members and supporters at Aba National High School on 9 February 2016, the body also said that the Nigerian military surrounded the group and then fired live ammunition at them without any prior warning. Eyewitnesses and local human rights activists said that many of the protesters at Aba were rounded up and taken away by the military. On 13 February, 13 corpses, including those of men known to have been taken by the military were discovered in a pit near the Aba highway.  It is chilling to see how these soldiers gunned down peaceful IPOB members. The video evidence shows that this was a military operation with intent to kill and injure," Makmid Kamara alleged.
No action by authorities to ensure accountability
The organisation regretted that despite overwhelming evidence that the Nigerian security forces committed gross human rights violations including extrajudicial executions and torture, no investigations have been carried out by the authorities. "Amnesty International has repeatedly called on the government of Nigeria to initiate independent investigations into evidence of crimes under international law, and President Buhari has repeatedly promised that Amnesty International's reports would be looked into. However, no concrete steps have been taken," said Makmid Kamara.
Army debunks Amnesty Report
But the Nigerian Army yesterday debunked the allegation made by Amnesty International, describing the claims of mass killing of MASSOB/IPOB protesters by the military between August 2015 and August 2016 as unfounded.
A statement signed by Colonel Sani Kukasheka Usman, Acting Director, Army Public Relations, a copy of which was emailed to Vanguard said the insinuation that troops perpetrated the killing of defenceless agitators is untrue.
The statement read: "This is an outright attempt to tarnish the reputation of the security forces in general and the Nigerian Army in particular, for whatever inexplicable parochial reasons.  For umpteenth times, the Nigerian Army has informed the public about the heinous intent of this Non-Governmental Organisation which is never relenting in dabbling into our national security in manners that obliterate objectivity, fairness and simple logic.
"The evidence of MASSOB/IPOB violent secessionist agitations is widely known across the national and international domains.  Their modus operandi has continued to relish violence that threatens national security.  Indeed, between August 2015 and August 2016, the groups' violent protests have manifested unimaginable atrocities to unhinge the reign of peace, security and stability in several parts of the South East Nigeria.
"A number of persons from the settler communities that hailed from other parts of the country were selected for attack, killed and burnt.  Such reign of hate, terror and ethno-religious controversies that portend grave consequences for national security have been averted severally through the responsiveness of the Nigerian Army and members of the security agencies.
"These security agencies are always targeted for attack by the MASSOB/IPOB instruments of barbarism and cruelty.  For instance, in the protests of 30 – 31 May 2016, more than 5 personnel of the Nigeria Police were killed, while several soldiers were wounded, Nigeria Police vehicles were burnt down same as several others of the Nigerian Army that were vandalized."
Niger-Bridge under threat
The release from the military also claimed the strategic Niger Bridge at Onitsha came under threat which led to disruption of socio-economic activities.
"In the aftermath of the encounter that ensued between security agencies and MASSOB/IPOB militants, many of our troops sustained varying degrees of injury.  In addition, the MASSOB/IPOB recurrent use of firearms, crude weapons as well as other cocktails such as acid and dynamites to cause mayhem remain a huge security threat across the Region.
"In these circumstances, the Nigerian Army under its constitutional mandates for Military Aid to Civil Authority (MACA) and Military Aid to Civil Powers (MACP) has continued to act responsively in synergy with other security agencies to de-escalate the series of MASSOB/IPOB violent protests.
"Instructively, the military and other security agencies exercised maximum restraints despite the flurry of provocative and unjustifiable violence, which MASSOB/IPOB perpetrated.  The adherence to Rules of Engagement by the military has been sacrosanct in all of these incidents.
"Therefore, it is rather unfortunate for the Amnesty International to allow itself to be lured into this cheap and unpopular venture that aims to discredit the undeniable professionalism as well as responsiveness of the Nigerian Army in the discharge of its constitutional roles."