Economic affairs received a lion share of N295.84 billion in the Lagos State proposed 2017 Budget of N812.99 billion.
The state Commissioner for Finance, Mr Akinyemi Ashade, made this known while giving a sectoral breakdown of the budget estimate at a news conference on Tuesday in Alausa, Ikeja.
The News Agency of Nigeria (NAN) reports that Gov. Akinwunmi Ambode had earlier on Tuesday presented the 2017 Budget proposal to the state House of Assembly for approval.
The budget, tagged: "Golden Jubilee Budget" is N150.4 billion higher than the 2016 Budget which stood at N662.58 billion.
The 2017 Budget has a capital expenditure of N512.46 billion and a recurrent expenditure of N300 billion.
The capital and recurrent ratio of the budget stood at 63:37.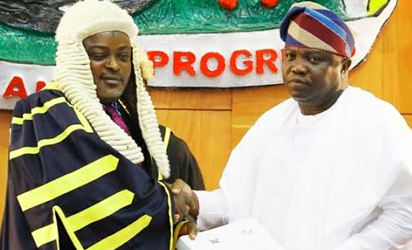 According to Ashade, works and infrastructure , tourism, agriculture and transportation are some of the components of the economic sectorial group.
The commissioner said that the budget would be funded from a total revenue estimate of N642.849 billion while the balance of N170.150 billion would be funded through a N100 billion Bond Issuance Programme and a combination of internal and external loans.
He said that N205.85 billion was earmaked for general public services representing 25.32 per cent of the budget while N36.43 billion was allocated to public order and safety, representing 4.48 per cent.
Ashade said that roads and infrastructure got N138.249 billion while N51.37 billion was earmaked for transportation.
He said that environment was allocated N56.31 billion, representing 6.93 per cent, health, N57.29 billion representing 7.05 per cent cent, and education, N92.4 billion representing 11.37 per cent of the budget.
The total allocation to housing and community amenities was N50.290 billion while N9. 457 billion was earmaked for sports development, according to the commissioner.
He said that the state government proposed N4. 795 billion and N20. 247 billion for agriculture and food security, and tourism, respectively.
On security, law and order, Ashade said that N31. 242 billion was earmaked to address security challenges, and related issues.
He said that the government also earmarked N11. 006 billion and N6. 177 billion for science and technology, and commerce and industry, respectively.