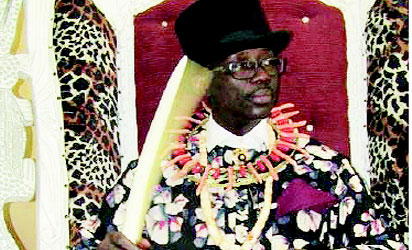 •HRM Dakolo.
By Emem Idio
GBARANTORU TOWN- THE  paramount ruler of Ekpetiama in Yenagoa Local Government Area, Bayelsa State, HRM King Bubaraye Dakolo,  Agada IV, Ibenanaowei  of Ekpetiama Kingdom, has warned that watering down   the    Petroleum Industry Bill, PIB, on oil communities  could incite fresh crisis in the Niger Delta region.
Dakolo, whose domain is one of the host communities to the Gbarian Ubie Liquefied Integrated Gas Project, made the remarks while receiving officials of the Bayelsa State branch of the Environmental Rights Action, ERA, led by Mr Morris Alagoa in his palace at Gbarantoru town.
The youngest monarch in the state, said:    "They are more or less watering the PIB down to prevent it from making impact on the people and yet, they want to hang the agitators who go violent.
Critical provisions
"All those areas and critical provisions that they are trying to amend, they should restore it and let it have that bite and momentum that it is supposed to carry, and if it does not have that momentum, then you cannot stop the agitation in that manner."
The royal father also said that dialogue remains the best option to solving the Niger Delta crisis, but called on the federal government to dialogue with only those that could proffer lasting solutions.
He posited: "The way forward is that the federal government must dialogue, but not just dialoguing with everyone, but with only those who can give the appropriate prescription. They must identify some of us and experts, who can proffer solution and bring us behind closed doors and say, what is the way forward?
"The Federal Government seems to be on the receiving end right now. In June, according to Shell Petroleum Development Company, SPDC  production chart, it is only the facilities located in my kingdom that was producing at  near full capacity of 40,000 barrels slightly below the 60,000 capacity,    but all the other facilities of SPDC in Bayelsa were vandalised.
"We have the expertise and we are privileged as monarchs and our domain is reasonably peaceful, they should call us and s how we did it and replicate it in the entire region. Killing these young men is not going to solve the problem."
In his remarks, the Project Officer and Head of ERA Bayelsa Office, Mr. Morris Alagoa, said as an oil and gas endowed area, the visit was to intimate the monarch that ERA,    as an environmental group, was interested in the operations of the multinational oil companies as regards industry best practices.