Adokiye Amiesimaka is a household name in Nigerian football. The former national team dashing winger, whose exploits with the Super Eagles brought him fame, and laurels to the nation capped his glorious career with the 1980 Africa Cup of Nations gold medal.
When we called for an interview, he asked if there was a tape recorder because he prefers his words "expressed" exactly the way he said them in the interview. After initial hesitation (after he was told the phone had no recorder), our man agreed to go ahead with the '5 minutes' interview following the reporter's assurance and persuasive gestures. The interview which was on phone eventually lasted over 20 minutes.
Amiesimaka spoke with Jacob Ajom on the way forward for Nigerian sports, particularly, football. Excerpts:
Nigeria football is experiencing its worst moment in recent history. The national team, the Super Eagles failed to qualify for the Africa Cup of Nations back to back, the U-17 won't be defending their world title because they couldn't qualify for the African Championship and the U-20 national team won't be defending their African title in Zambia as well. Where did we go wrong? And, what is the way forward?
Amiesimaka:  I was invited by Punch management in 2007 to write a weekly column. It ran for nine years. I was doing that with the hope that my column could influence policy makers and stake holders in Nigeria sports, generally. I did not see it as an avenue for entertainment; it was meant to shape the thinking of policy makers, sports fans, the coaches, athletes and other stake holders.
"I had to stop it a few months back, when I realised people were rather seeing the column only for its entertainment value. Someone saw me and said, 'ah… I love your column'. I realised that as a people, we are not yet ready to move our sports forward. The fans don't put any pressure on those that manage sports in our country; not even the press. You(the press) are not going about how to get things done the proper way. You don't probe, you don't ask questions. I'm sorry to say this, but that encapsulates the tragedy called Nigeria.
"A few months ago, the CNN ran a feature on the development of football in China. Remember, China has not yet won anything of note in international football and according to the CNN report, the government of that country has set aside US$189 million for the development of football. Here in Nigeria, that is the kind of money one individual will pocket and nothing will happen. But the Chinese government put that for the development of the sport. It is a 20-25 year development plan. They are looking at the next 25 years to see how their plan would impact on the growth of the game in their country.
"We have won the FIFA U-17 World Cup five times… so what? What have we done? We cheat. When one tells the truth, one is called names. When the foundation is faulty, what happens? … the structure collapses. The chicken has come home to roost. You can't give what you don't have.
"I was lucky to play from youth to the national team. As a child growing up in Lagos, we had a lot of youth tournaments. We had inter street games; amateur games, although there was no structure. Now it is worse because you don't have such competitions any more. All the playgrounds have been taken over by skyscrapers.
"But the stakes are higher now in sports. Sports is now commercial enterprise. The Western world is serious, investing billions in sports. We cheat to win. You take a 30-year old man, shave his beard and powder his face then put him to play against kids and we win – they laugh at us because when our 'U-17s' were supposed to mature to senior players, they are finished; they grow into oblivion. "So, from where are you going to get players for the senior team? That is why our senior national team has been struggling since 1998, after the Okocha era.
"In this age of internet, google any of the European or South American players at random, you will get their real ages and you will realise they start early. They go to school and play football; where they can't go ahead in sports, they continue their academics.
"Today, there is no team in Africa we can beat easily. It is not because they are doing so well but it is because we are doing so bad."
What is the way forward?
"We do not have a development programme. Everything revolves around government. If government has to be in charge, it has to separate sports from the other ministries. Sports should be distinct. You don't have to treat sports the same way you handle the affairs of Ministry of Environment, for instance. Sports is now. Money for preparation of athletes has to be released without subjecting such funds to bureaucratic bottleneck, or wait for passage of budget by the National Assembly. Athletes must be prepared for at least four years and it is a continuous process."
Youth Development:
"We do not have a structure for sustained youth development. For instance, there is no policy for U-17, U-18, U-19. No vision. Take the China example as a case study. You put structures in place with a long-term plan. Give them good training and engage them in competitions.
In Nigeria, those in positions of responsibility are not there for what they can offer but because of what they stand to get. The stakeholders don't ask questions. Questions like 'who are these people? What do they have to offer? What is their pedigree?' But we don't ask questions. That is why the administrators don't feel accountable to the stakeholders and things are going wrong.
"See the way we handled the U-23 Olympic team. How many people questioned the Nigeria Olympic Committee and the Federal Government the way they handled the team; from preparations up through their participation in the Olympics? As a people, we are not ready yet.
"Grassroots development: The focus should not be to win now. There should be graduated progression: Primary, intermediate to the senior level. It is because all these basic elements of development are absent in our system, that is why we are where we are. Since 1988, we have not got a good national team. The Eagles now struggle against the smallest opposition. And it reflects in all our sports.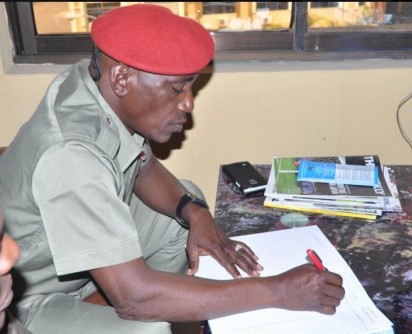 Jamaica is about three million in population and they produce athletes that are world beaters. Research has shown that their ancestors were taken from Southern Nigeria and somewhere in Ghana. That means we have the genes and we can be world beaters. We too should be producing the super athletes like Jamaica. But where are we?
"During a Soccerex seminar held in Lagos a few years back, an ex-Dutch international told me about the Dutch model: They have a structure which sees footballers at 18 and 19 mature into full time professionals. The Dutch international expressed surprise that in Africa, although we don't have the structures, it amazes him that when African players go there to play they are as competitive as their home-grown players. If only we had good organisation, which ensures the players had good facilities, given the right nutrition, get the desired attention from the medics, physiotherapists, and so on, our players would have been the best in the world.
General Apathy
Chief Amiesimaka believes the general apathy among stake holders in Nigerian sports has not helped the growth of sports in the country. People don't ask questions on whatever goes on in the ministry of sports or the Nigeria Football Federation.
"For instance, we should be asking why the Nigeria Football Federation has hired a German coach for the Super Eagles at this time. Who is he? Where has he coached before? What is his record?
"The problem with Nigerians is that we don't ask questions. The NFF should tell us which coaching course Rohr attended. What is his pedigree? How many European competitions has he won?
"As coach, Siasia won silver medal at the FIFA U-20 World Cup in 2005, won an Olympic silver medal in Beijing, and won a bronze medal in Rio 2016 Olympics. Does Rohr have an Olympic medal? Does he have a European medal? Why can't Siasia handle the national team?"
Adokiye recalled, sadly too, how the power of fans' protest cost Nigeria the 1978 World Cup ticket. He said the failure of the Green Eagles to beat Tunisia in Lagos was as a result of agitation by football fans who were protesting a hike in gate fee, but still thronged the stadium in their thousands. His story:
"Do you know why we lost to Tunisia in Lagos in 1977? This was a match everybody thought was already under wraps. We had drawn the first leg 0-0 in Tunisia and a 1-0 win would have seen us qualify for the 1978 World Cup in Argentina.
"Something happened. On the eve of the match, the NFA hiked the gate fee as a way of curbing the expected huge turn out of fans. The fee hike did not go down well with the fans. Although they still came out in their thousands, they decided to register their anger over the hike in their own way.
"On the day of the match, for the first time in my playing career, we were booed in Lagos. As we (the Eagles) came out of the tunnel onto the pitch, to our greatest embarrassment, we were booed by our own fans who could not gain access to those who hiked the gate fee but decided to vent their spleen on us (the players). Tunisian players entered the pitch to a loud applause. This trend continued throughout the match as every of our move was booed while the Tunisians were cheered. We were on the pitch battling with emotions; trying to win for the country while those who took that decision were in their airconditioned offices. We eventually lost. We were made to look like visitors in our own home ground. That underscores the power of protest by the fans. We must be asking questions."
Adokiye said, stories about Nigerian coaches taking money from players before inviting them to the national teams were all false.
"It is like giving a dog a bad name to justify your intent to hang it," he defended, adding, "despite the negative stories of nepotism and all the isms against Nigerian coaches, they have better records against their foreign counterparts.
"We had Keshi, we had Amodu and we killed them. When Bonfrere Jo was losing to the likes of Sierra Leone, Amodu came to the rescue and qualified us for the World Cup in 2002.
"Despite all the isms, Keshi won the Africa Cup of Nations and qualified Nigeria for the World Cup in Brazil. So there is no logic in the argument against Nigerian coaches.
"One of the best coaches I ever had was late Dan Anyiam, an Ibo man. Jim Nwobodo was chairman of Rangers. They saw that I was good and they approached me. I joined Rangers on my own terms. No coach wants a player that cannot give him victory. Football is in the public eye. It is not something done in secret. I use myself as an example. I am Okrika, schooling in Lagos without a godfather. I played for Lagos Academicals, played for UNILAG and the national team. There is no logic in the argument against Nigerian coaches."
Adokiye said it's about time Nigerians woke up to ask for foreign administrators in the Glass House. "We should also counter the administrators' argument with agitation for foreign administrators for our football. The same argument they put forward against Nigerian coaches also applies to them.
The administrators blame Nigerian coaches for their(administrators') failure. You want coaches to win matches. Where are the players? There is no programme for the production of quality players. You can't produce a lawyer if you don't send the child to the university and law school. He may have the natural intelligence but cannot practice as a professional. Why are we undermining our own? No job is as difficult as representing your country in sports, especially football, the king of sports.
"Zidane won the European Champions League, which coaching course did he attend? Which coaching course did Mourinho attend? Which qualification do they have that Oliseh doesn't? Beckenbauer took Germany to win the World Cup, which coaching course did he attend or qualification he acquired? What was his pedigree in coaching? Why do we deride our own?
"Where else have you heard that a coach is owed six months. Where else have you heard that a football team training for a major tournament has no bus to take them to training ground? Who cares? As a people, we are not ready."