By Henry Umoru & Joseph Erunke
AS Nigeria marks its 56th independence anniversary today, Senate President, Bukola Saraki, has called on Nigerians from all walks of life to collaborate with the Federal Government to ensure the nation emerged from the current economic recession stronger, more united, developed and self reliant.
Also, the Deputy Senate President, Ike Ekweremadu, called for sober reflection and return to the path of true federalism as envisioned by the founding fathers in order to move the nation forward.
Saraki, in his message to mark the nation's 56th Independence Anniversary signed by his Special Adviser, Media and Publicity, Yusuph Olaniyonu, also commended all Nigerians, especially the nation's founding fathers, "for their contributions that have averted disaster from the nation at every point of her existence is threatened by social, political and economic problems."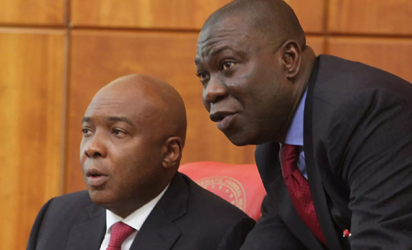 While expressing regrets that in her 56 years of existence, Nigeria's economy still depends on only oil, a situation which created the present economic problems being experienced by the citizenry, the Senate President commended Nigerians for their perseverance, understanding and support in the face of the harsh economic condition.
On his part,Deputy Senate President,Ike Ekweremadu, in statement through his Special Adviser, Media, Uche Anichukwu,called for sober reflection and a return to the path of true federalism as envisioned by the founding fathers in order to move the nation forward.
The Senator, who stressed the need for justice, peace and unity, once more, urged the Federal Government to mobilise all capable hands to salvage the nation's ailing economy, as there was hunger in the land.
He said:"This 56th Independence Anniversary calls for sober reflection. No people can make progress, unless they retrace their steps to where the rain started beating them.
"Nigeria, at formation, had a building plan, which was based on true federalism as covenanted by our founding fathers at various conferences that led to independence.
For as long as we followed that plan, we prospered.
"But, once we discarded the building plan, dissembled the inherited structures and legacies and began to undermine the fabrics of equity, justice, balance, healthy competition, and economic prosperity that was ingrained therein, we charted our route to the current perdition".