It came like a bolt from the blue on Thursday, 13th October 2016, when the news of the return of 21 of the 219 female students of Government Secondary School, Chibok in Borno State, who had been captives  of their Boko Haram Islamist terror group abductors since  April 14, 2014, unfolded.
The deal was reportedly carried out by the Department of State Services (DSS) with the help of the government of Switzerland and the International Committee of the Red Cross (ICRC). The girls were handed back to their families on Sunday, three days later, amidst outpouring of joy and thanksgiving, not only by the families but also members of the Bring Back Our Girls (BBOG) campaigners and the entire nation.
The Federal Government insists no ransom was paid and no prisoner exchange took place, even though some media reports had it that five top commanders of the terrorist group were swapped for the girls.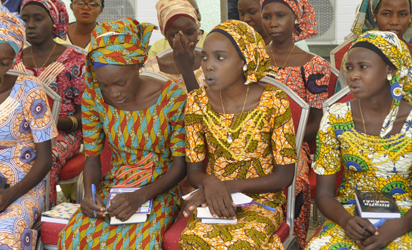 We, like all well-meaning Nigerians are indeed, gladdened by this development. It shows that the Federal Government was correct when it kept saying that negotiations were going on to secure the release of the abductees. We commend these efforts, but we caution that this is not the time for the government and people of Nigeria to over-celebrate.
This first batch of 21 girls is just a tip of the iceberg, as 198 remain unaccounted for. The road to the end of this painful national odyssey is still a distant and sensitive one. We are dealing with a very wily and cold-blooded group. They are watching our every move on television and over the internet, devising strategies to maximise their gain from our pains.
The challenge of securing the freedom of the rest of the young ladies requires the deployment of professionalism, focus, tact, diplomacy and statesmanship. It is not a job for the boys. We must put our best people to work till we bring back all the surviving Chibok Girls.
Though the rescued girls have been reunited with their families, we still believe that much work is left to be done in bringing them back to normal society. Much more work is also required to ensure that those of them carrying the pregnancies and babies of the terrorists are protected from stigmatisation and isolation. The state has a duty to assist them to a soft landing in society.
We encourage the BBOG campaigners, the media and other civil society groups not to rest on their oars until the government fulfills its pledge in this regard, rather than abandon them as soon as the spotlight shifts from this event.
Now, on to the next stage of the rescue mission.