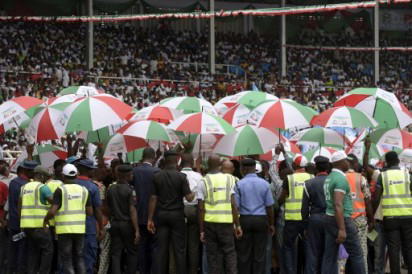 The Peoples Democratic Party (PDP) has said that President Muhammadu Buhari 'detests the Judiciary and the Rule of Law'.
The party made this known on Sunday in a statement titled '2ndLetter from JSC Ngwuta, Again Accused Amaechi & Others…Confirmed that President Buhari Is Against Justice And The Rule of Law' and signed by Prince Dayo Adeyeye, National Publicity Secretary.
The Statement read thus
The attention of the leadership of the Peoples Democratic Party (PDP) is once again drawn to another letter written to the Chief Justice of Nigeria (CJN) and Chairman of the National Judicial Council (NJC), Justice Mahmud Mohammed dated 18th of October, 2016, in which Justice Nwali Sylvester Ngwuta, Justice of the Supreme Court accused former Governor of Rivers State and now Minister of transport, Rt. Hon. Rotimi Chibuike Amaechi, the former Governor of Abia State and now Minister of Science and Technology, Dr. Ogbonnaya Onu and President Muhmmadu Buhari on their involvement and hot pursuit to induce and subvert justice in favour of the APC Governorship Candidates of Rivers State and that of the Labour Party in Ebonyi State who is to switch to APC if he had claimed victory at the Appeal Court. Ridiculous!
This latest allegation is another indictment on the Executive Arm of Government and the serial complicity and involvement of the President, members and leaders of his Party, the APC, the DSS, especially, the former Governor of Rivers State who has been mentioned twice in both petitions written by the Honourable Justices of the Supreme Court within few hours interval.
For emphasis, below is an excerpt from the Justice Ngwuta's Letter narrating his meeting with Rt. Hon Amaechi who came at the instance of President Buhari:
"On my return he came in the evening and even before he sat down he barked "You have seen Wike"….Then he made a call and ask me to speak with someone. The man he called said he was a DSS man….Next he said "Oga is not happy". I asked him who is the unhappy "Oga" and he answered "Buhari". I retorted "go and talk to his wife". He got very angry, and left, remarking "we shall see" several times."
However, we are not surprised with the mention of President Buhari in the Statement by Justice Ngwuta because President Buhari has left no stone unturned to confirm the fact that he detests the Judiciary and the Rule of Law as seen in his body language and actions since he assumed office. Below comments also buttresses his detest and hostility towards the Nigeria Judiciary:
"On the fight against corruption vis-à-vis the Judiciary, Nigerians will be right to say that is my main headache for now. In my first attempt in 2003, I ended up at the Supreme Court and for 13 months I was in Court.
The second attempt in 2007, I was in Court close to 20 months and in 2011, my third attempt, I was also in Court for nine months.All these cases went up to the Supreme Court until the fourth time in 2015, when God agreed that I will be President of Nigeria." (President Buhari, February 2016).
Nigerians will also recall that it's not only President Buhari that is striving strongly to derail our nascent democracy, but his Party National Chairman, Chief John Odigie Oyegun who once lambasted the Judiciary on the Outcome of the Supreme Court Judgment in Rivers and Akwa Ibom States Gubernatorial Elections on grounds of business and investments. He said:
"I still find the Judgmentonthe Rivers State Governorship Election totally astonishing. There is something fundamentally wrong in the Judiciary. We have lost very important resource-rich states to the PDP. No matter how crude oil prices have fallen, it is still the most important revenue earner for the Country. There is obviously something fundamentally wrong in Rivers State which needs to be investigated and addressed."
From the two statements of President Buhari and Chief John Odigie Oyegun, National Chairman, All Progressive Congress (APC) above, it is obvious that the Judiciary can be said to have functioned appropriately only when they and their Party wins a Case. Otherwise, the Judiciary must be punished. How ridiculous!
On this note, it has become clearer that the present ordeals of judges in the hands of President Buhari's DSS are the fulfillment of series of threats by President Buhari, Hon. Amaechi and Odigie Oyegun? Consequently, we wish to sadly conclude that Nigeria's democracy is indeed in grave danger. It therefore appears that we have returned to barracks rule through the ballot.
To this end, we are further calling on all stakeholders in the Nigerian State, the international community, the media, the
civil society organizations (CSOs) and all well-meaning Nigerians to intervene and stop this constitutional rape before it is too late. Nigeria is sliding aggressively into anarchy and this must not be allowed.
Nigeria belongs to all of us irrespective of party affiliation, tribe and religion. This APC led Government of President Buhari must be stopped forthwith from these reckless acts of impunity as it is no longer acceptable.
God bless Nigeria.