By Simon Ebegbulem & Gabriel Enogholase
BENIN CITY – HISTORY was made, yesterday, in Benin Kingdom, as the 40th  Oba in the Oranmiyan dynasty was crowned.
He is Oba Ewuare II. The announcement, which  was made by the Oliha of Benin Kingdom, Chief Edionwe Oliha, at about 5:10pm, elicited a thunderous ovation in the entire Benin Kingdom.
Benin City, the Edo State capital, was at a standstill yesterday, as prominent Nigerians, including President Muhammadu Buhari, who was represented by Vice President, Yemi Osinbajo, traditional rulers, governors, National and state Assembly members, ministers and ambassadors, members of the diplomatic corps and captains of industry, among others, thronged the ancient city for the Obas's coronation.  Indeed, the entire city was brought to a standstill.
Buhari described the late Omo N'Oba, Erediauwa II, who had worked with him as permanent secretary when he was Minister of Petroleum, as one of the finest and refined Nigerians.
Roll call
Governor Adams Oshiomhole led his colleagues such as Ibrahim Dankwambo (Gombe), Abiola Ajimobi (Oyo), Rauf Aregbesola (Osun), Deputy Governor of Imo State, Prince Eze Madumere and that of Edo State, Dr Pius Odubu, to the historic event.
Some traditional rulers at the epoch making ceremony include Alhaji Saad Abubakar III, Sultan of Sokoto; Alhaji Sanusi Lamido Sanusi, Emir of Kano;  Ooni of Ife,  Oba Enitan Ogunwusi, Ojaja II; Obi of Onitsha, Igwe Alfred Achebe; Olu of Warri, Ogiame Ikenwoli Emiko; Orodje of Okpe, Otaru of Auchi, Alaafin of Oyo, Obong of Calabar, King Jaja of Opobo, Etsu Nupe and Olugbo of Ugbo Kingdom, among others.
National Chairman of All Progressives Congress, APC, Chief John Odigie-Oyegun; governor-elect of Edo State, Mr Godwin Obaseki, and his wife; two-time former governor of old Bendel State, Dr Samuel Ogbemudia; former governor of Edo State, Prof. Osarhiemien Osunbor; Minister of State for Heath, Dr Osagie Ehanire; Minister of State for Agriculture, Heineken Lokpobiri; Minister of Information, Alhaji Lai Mohammed and General  Godwin Abbe were also there.
Africa's richest man, Alhaji Aliko Dangote and Captain Hosa Okunbor led other captains of industries to the event. The Queen of England and Queen of Sweden were represented by their Ambassadors in Nigeria. Representatives of the governments of Italy, Norway, Angola, Denmark,were represented. The Zulu King from South Africa and several other kings in Africa were also present.
At Usama palace where the Oba spent seven days performing several rituals and ceremonies, different traditional troupes, kingmakers in the kingdom were there as early as 6am. People waited patiently to see the new king, who was actually crowned midnight Wednesday by the Oliha of Benin Kingdom, Chief Edionwe Oliha.
Road to  coronation
Oba Ewuare II left Usama palace which was built by Oba Eweka I, before it was moved to its present site by Oba Ewedo in the 13th  century, on foot at exactly12:50pm, accompanied by Benin warriors called Isemienro, palace chiefs and thousands of Benin citizens and visitors.
The Oba crossed the Omi River bridge, reminiscent of Oba Ewedo's vow not to step into Isekhere territory on bare-foot. Shortly after crossing the bridge, there was a ceremony and rituals were performed on the bridge. He thereafter passed through Ulague Street through Ebo Street, from where he arrived at Urhokpota Hall, venue of the coronation ceremony at exactly3:25pm.
Before his arrival at Urkpota hall, his three Queens were already seated along with other dignitaries, including Vice-President Osinbajo and host governor, Comrade Adams Oshiomhole, to receive him. The entire environment around the King Square, Urhokpota Hall and adjoining streets were electrified as people surged forward to catch a glimpse of the new Oba.
Several dancing troupes including the famous Ekassa dance, which is performed when an Oba is being crowned, were there to add glamour to the momentous occasion with their spiritual dance.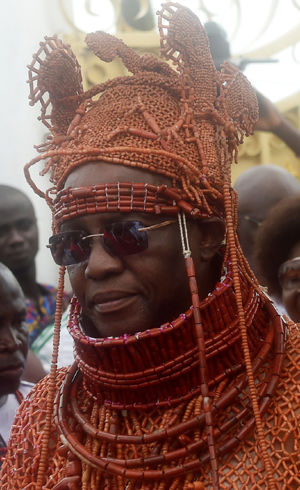 An hour before the arrival of the new Oba, an advance team of palace chiefs and warriors arrived the Urhokpota Hall to set the stage ready.
The adjacent Benin Museum grounds, Oba Market Road, Mission Road and Airport Road were filled to capacity by people, who came for the ceremony. It took security personnel on ground hectic moments to control the surging crowd.
On his way to Urhokpota, the Oba passed through Isekhere, performed some ceremony at Iwehen Street under the watch of Ewaise N' Iwehen and proceeded to cross the bridge.
Oba is epitome of  tradition – Buhari
President Buhari, in his speech read by Vice-President Osinbajo, congratulated Oshiomhole for having the opportunity to hand over the staff of office to the new Oba who he described as a foremost diplomat and an epitome of tradition.
"We are gratified that your meritorious service as Nigeria's ambassador to various nations and your work in the oil and gas sector stand you in a good stead to fulfill this obligation, which your ancestors have given to you. Most of those who know you have expressed optimism that you will discharge this responsibility with great wisdom.
"On behalf of the President of this great nation, I congratulate you on this momentous and historic event and assure you of our full support, especially for your programmes on youth employment, which your Royal Majesty has set out to achieve," he said and showered prayers on the new Oba and prayed God  Almighty to give him a successful reign on the throne.
Oshiomhole  presents staff of  office
Governor Oshiomhole, who presented the staff of office to the new Oba, recalled his relationship with late Oba Erediauwa who he described as a father who will be missed by all. According to him: "Oba Erediauwa will be remembered as a King who intervened in the state government's effort to develop the state particularly the six lane Airport Road where he directed the state House of Assembly to give their support so that the project will be a reality. That intervention by the late Oba made a difference. And we are lucky that the new Oba was mentored by his father and this quality he has displayed as Edaiken N'Uselu. He served as ambassador to several nations and we pray to God and our ancestors to give him the wisdom to govern his people.
"I have benefited enormously from your wisdom even before I became governor and I join millions of Nigerians and others who came from far and near to congratulate you and we pray to God and our ancestors to grant you the wisdom you need to succeed as Oba of this great Kingdom.
"I want to reassure you that even when I leave office in few days time, I will give my all and I know the in-coming governor, Godwin Obaseki, will do better than I both in respect for the tradition and development of the state."
Why I'm 40th  Oba of Benin – Ewuare II
Addressing the crowd, Oba Ewuare II, who urged the crowd to observe a minute's silence in honour of his late parents, admitted that as heir apparent to the throne, he benefited immensely from his father's wisdom. He also announced that his mother should henceforth be addressed as Queen Mother, for which he said a ceremony will be announced later.
"During my father's reign, the palace was a home for all despite your religious or ethnic background, for all who needed guidance and assistance. Traditional rulers from far and near consulted him on several issues and he ensured that he advised them accordingly. He was a good father to all of us all. As the custodian of our culture and tradition, he was open to new ideas and respected new innovations," he recalled.
Oba Ewuare II, who explained why he should be regarded as the 40th  Oba of Benin contrary to the belief that he is the 39th  Oba, said:  "There may be some divergent views about the origin of some of our ancestors but there is unanimity in the shared heritage between the people of Benin and Ile-Ife in identifying Oduduwa as a forebear of kingship in parts of Africa and Nigeria of today.
"Historians all agreed that Oduduwa sent his son Oranmiyan as requested by elders of Benin to return with them as ruler of their realm. Oranmiyan stayed in Benin, but his stay was short. But by the time he left he had a son known today as Eweka I. Oranmiyan's time in Benin was however short-lived, he was an Oba. So he was the first Oba after the Ogiso dynasty, he established Obaship in Benin. Therefore the listing of past Obas should  start from Oranmiyan. This actually made my late father the 39th  Oba of Benin while I am the 40th  Oba of Benin."
The new Oba said he will pay due attention to security and well being of the people. "We shall strive to ensure equity and justice, use cultural diplomacy as a vehicle to maintain relationship with our neighbours. We will ensure our people use Benin language as a vehicle of communication and also teach our children the language.''
He further appealed to Benin people to uphold their tradition and culture at all times just as he appealed to the state government to include the teaching of Bini language and history in the school curriculum.
He expressed concern over the level poverty in the grassroots, which he traced to lack of employment opportunities for the youths and appealed to government at all levels to change the trend.
The Oba who unveiled his royal crest also established Oba Erediauwa annual lecture series worth N10million as price for well researched material in Benin history and language.