By Emem Idio
YENAGOA—PARENTS of Miss Ese Oruru, the teenage girl allegedly abducted to Kano and put in the family way by one Dahiru Yunusa, alias Yellow, have said they were tired of their continued stay at the Police Officer's Mess, claiming they have been abandoned, while the accused is enjoying his freedom.
According to them, the Mess, where Miss Oruru is nursing her four months old baby, is no longer conducive for them.
The Orurus, who were in court yesterday, while thanking the Bayelsa State government for its support to the family since the saga began, however, told newsmen that their daughter was not getting the kind of attention and care required for a nursing mother.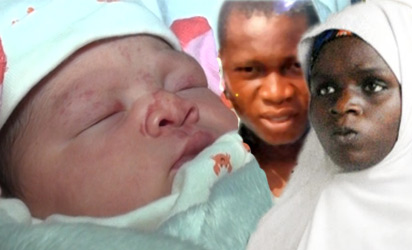 The mother, Mrs Rose Oruru, said: "We are confined to a room and are not allowed to go out. We, including the new born baby, stay with our trash bin and the room stinks. The world should know that we are suffering and have been abandoned for no reason.
"People from Bayelsa have been assisting us and even the police officers, but we want to leave the Mess for our house, because the place is not a good place to nurse a new born baby."
On his part, Ese's father, Mr. Charles Oruru, appealed to Delta State government to come to their aide to enable Ese go back to school.
He said: "My daughter has been crying, saying she wants to go back to school as her classmates are now ahead of her.
"She has lost a whole year to this saga and she is not doing anything in the Police protective custody, while the accused is enjoying freedom on bail.
"I am begging Delta State government, Nigerians and the world at large to come to our aide because she is suffering. I have called on the Delta State government to assist us because I have five children and Ese is the second to the last child. So my home state should come to my family's aid."
Meanwhile, the case has been adjourned to December 8.