By Roghene Omomadia
Renowned comedian and aide to Edo State governor, Roland Igbadumhe, has said that the unprecedented developmental accomplishment by out-going Gvernor Adams Oshomhole, won the election for All Progressives Congress, APC, candidate, Godwin Obaseki.
This is as calm returned to Benin after the protest that followed the Independent National Electoral Commission, INEC's, declaration of the candidate of the APC, Obaseki, as winner in the September 28, governorship poll.
Roland Igbadumhe, aka 'Youngest old man' a comedian and Special Assistant to the Governor on Entertainment, who spoke with newsmen in Benin, said that the good work of APC led-government of Oshiomhole, spoke 'eloquently' during the campaign and at the election.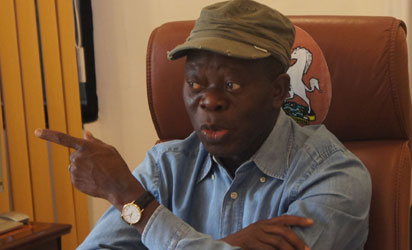 Igbadumhe described the eight-year tenure of Governor Oshiomhole as second to none in the South-South geo-political zone.
He said: "You can go across the states, from Edo South through Edo Central to Edo North, the rural communities and see for yourself. The Okpekpe people in Etsako were completely cut off from civilization and so were the people of Igbanke in Edo South before Oshiomhole came in. Those communities can now boast of good roads and even street lights courtesy of Oshiomhole, not to talk of the secondary and primary schools where pupils and students were forced to learn under tress as if they were in the Stone Age before the coming of Oshiomhole. Now, you can see the schools complete with modern facilities comparable to those in the United States."
and Europe. There is no one who will see these accomplishments and see vote for the Peoples Democratic Party, PDP, after their eight years of disaster."
The popular comedian who 'caught his teeth' during the fame Opa Williams Night of a Thousand Laugh, also lauded the choice of Godwin Obaseki and Phillips Shuaibu, as governor and deputy governor respectively.