WE congratulate you on the successful outcome of the Edo State governorship election. The countdown to your exit now starts in earnest.
For us, no one can fault an early send-forth arrangement because as they say in the colloquial, "animal wey no get teeth, na him de first reach bush mango place".
Some of the points raised here should, ordinarily, be left for the formal send-forth party. But we might be pushing our luck too far, deferring to that set-up. For one thing, who says we stand a chance of being invited? After all, you have one factor to your credit – you are remarkable when it comes to making new friends and forgetting the old. Come to think of it, how many of your friends who sat on the front row at your inauguration are with you today?
Again, a guest's placement at an occasion is important. Suppose we were invited and located near the toilet door at the rear, what chance would we stand to say something? Even in the most appropriate setting, who gives anyone an opportunity for lengthy speeches on such a crowded occasion?
Permit us to employ a popular Latin phrase, "veni, vidi, vici". This Ecclesiastical Latin phrase means "I came, I saw, I conquered". It is popularly attributed to Julius Caesar who used it in a letter to the Roman Senate around 47BC after he achieved a quick victory in his short war against Pharnaces II of Pontus at the battle of Zela. This phrase is now used to refer to a swift, conclusive victory.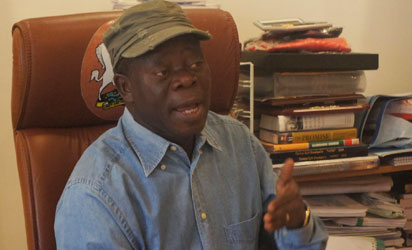 Comrade, you deserve nothing less. You met Edo in a virtually comatose state. You lifted it up and turned it to an Eldorado. We shall not dissipate energy here to start enumerating your various successes. After all, you are aware that we wrote more than 50 essays to appreciate you when you were performing those wonders.
The view is popular held that the end of a thing is more important than the beginning thereof. For us, the beginning is equally important because there can be no end without a beginning. In Edo State, and perhaps to a large part of Nigeria, we owe the emergence and sustenance of the new progressivism to you. You changed the face of Nigerian politics.
Truly, at the time you came, any warm body would probably have defeated the People Democratic Party, PDP, because there was general disenchantment against the party. But when the mandate was stolen, as had always been the case, how many such winners would have defended the mandate the way you did? None!
In the struggle to reclaim the mandate, you remained rugged and dogged. You knew when to fight and when to cease fire. At the height of provocation, some of us felt we should carry the war to the enemy's camp, particularly on that fateful day when our bike-riders were beaten up opposite the Party Secretariat and pushed into the gutter with their bikes. You constructively prevented us from taking steps that could easily have attracted the wrath of the central powers. You kept reminding us that he who fights and run away lives to fight another day. All that they needed was to pick and lock you up; and that would put paid to the entire struggle. So, you remained calm, cool and calculated.
Your one man one vote philosophy has been spreading across the developing world like wild fire in the harmattan. There is no telling how much impact that philosophy has brought to the world of the universal adult suffrage.
Comrade, there were times when you did not mind your business. You almost became a meddlesome interloper of sorts. After the 2015 general elections, you almost allowed the euphoria of the new conquest to take over the best part of you. It was difficult to understand if you had changed roles with the All Progressives Congress, APC, or President Muhammadu Buhari's Spokespersons.
Congratulations, Comrade. You are now the last godfather standing. There is the often mistaken impression that you have destroyed godfatherism in Edo State. The truth is that you only changed the face of godfatherism. You succeeded in dethroning the earlier godfathers and enthroning yourself in their stead.
It bears repeating, though, that godfatherism has not always connoted evil. It deals with mentoring. Webster's Third New International Dictionary refers to a godfather as one primarily responsible for the care and development of someone or something. The godfather is your earthly guardian angel who takes trouble to ensure that the best in you is actualised for your own good and for the good of the world around you.
Your strongest point is that, unlike your forerunners, when you anoint a godson, you stand by him to the end. To that extent, Comrade, you are the undisputed godfather of the APC in Edo State.
Shall we now return to Gani Fawehinmi (1938-2009)? This was one man who knew you so well. In the beginning, he felt you were short-changing yourself when you opted for the governorship position in Edo State. Perhaps at no cost to you, Fawehinmi addressed a world press conference at that time, seeking support for his idea that you should shoot for the president of the country.
Since Famehinmi's motion is not time-barred, it is not late to second it now. Accordingly, the motion that you should begin to seek the presidency is hereby seconded. This is a familiar terrain where your counterparts elsewhere have excelled; and there is no reason to expect that given a chance you will not excel higher. We remember Lech Walesa, former Leader of the Solidarity Movement in Poland who became a successful President of Poland and a Nobel Prize Winner.
Again, Frederick Jacob Titus Chiluba (1943-2011) successfully led Zambia's labour movement before becoming the country's second President from 1991 to 2002. You belong to this lineage.
We wish you the very best.
There is time enough for a robust debate on the points raised here.