By Dayo Johnson
LESS than 40 days to the governorship election in Ondo State, the Peoples Democratic Party, PDP, yesterday, raised alarm over alleged harassment and arrest of its members by security operatives.
This is coming as the candidate of the party Eyitayo Jegede, SAN, gets set to flag off his campaign today.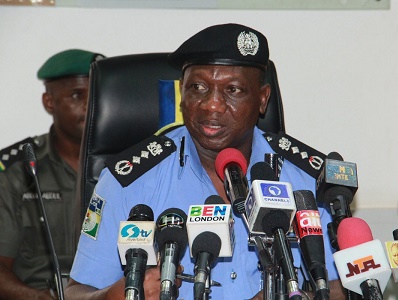 The party alleged that some party faithful, particularly youth leaders of the PDP in Ondo State are being invited for questioning by security agents.
Addressing a press conference in Akure, the state Publicity Secretary of the PDP, Banji Okunomo said "intimidating members of the party would discomfort people as the PDP prepares for the flag off of its campaigns tomorrow."
Police refute claim
But the Police Command  denied the arrest noting that some people were invited in a bid to maintain law and order as the governorship election approaches.
The Police Public Relations Officer, PPRO, Mr Femi Joseph said that the command had invited interested stakeholders critical to the election across the state  to a briefing ahead of the poll.
Joseph said: "We have no cause to  arrest anybody, but we have engaged some people on the need to ensure the coming election is free and fair."
PDP insists
But the PDP spokesperson, said that "such a development would make members feel politically unsafe to associate with the PDP in Ondo State."
Okunomo said: "Reports reaching the party secretariat says that some party faithful, particularly youth leaders of the PDP in Ondo State are being invited for questioning by security agents. This is coming on the heels of the flag off of the party's campaigns which comes up tomorrow (today).
"The information we got is that the arrest is ongoing knowing full well that tomorrow (Wednesday) is the flag off of the party's campaign. More so, election is around the corner and everybody is tightening their belts to ensure victory at the polls.
"Much as we are not saying that security agencies should not perform their duties, if, especially, they find anybody wanting in conduct or behaviour.
"We also want to say that any act on the part of these security agents should be properly channeled at this period where what is rampant in Nigeria now is that anybody, no matter how highly placed could be harassed, democratic norms are not respected, there is much of intimidation.
"All we are saying as a party is that if things are allowed to go on the way they are, and some of these acts are left unchecked, it would spell doom for our democracy.
"This is why we are raising this alarm now so that things could be done appropriately. Whoever is found to have committed an offence should be shown to the whole world.
"Things should not be done by arresting or intimidating anybody especially when it is believed that such has political motives. What we are saying is that we as a party will not support that."
I also want to say that our party has been a peaceful one since inception. We do not indulge in violence or any act of criminality in our party. Even when we were having our internal intrigues in the party, we have always comported ourselves.
"Everyone knows that this party and Ondo State have been peace loving and everybody admires the State.
"So, we do not want anybody to compound the situation or raise the barometer or temperature of crisis in Ondo State because our governorship election is around the corner.
"Again, we appeal that such an act should be discouraged. Even though we are aware that the arrested persons are with men of the SIB, we would not disclose their identities for security reasons.
"We are raising our voice to the whole world that democracy can only thrive where freedom of expression and freedom of association with choice political parties is allowed."