By Patrick Omorodion
The poor result churned out by Nigerian athletes in recent years, especially at two consecutive Olympic Games, first in London in 2012 and most recently in Rio de Janeiro, Brazil has continued to give Nigerians, especially stakeholders much concern.
One of those who is pained that Nigeria, once a powerhouse in Africa sports and a serious contender in the world, has taken a back seat in sports is former Chairman of the defunct National Sports Commission, NSC, Dr Samuel Osaigbovo Ogbemudia.
During a recent interview with Sports Vanguard, the two-time governor of the old Midwest/Bendel state said that "the Rio Olympic Games has exposed our inadequacy in sports planning, preparation and execution. Nigeria and her well-wishers are embarrassed by the results."
He pointed out areas where the country is getting it wrong with sports and also proffered solutions accordingly.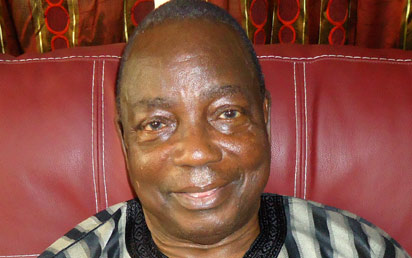 First he talked about facilities, stressing that facilities available in the country are enough to prepare the athletes, adding that what is needed is a little more "investment to include rowing, archery, wrestling, weightlifting, etc, for the Games." He added that "the government must show the will to modernise sports facilities for athletes to train with.
During my time, we built the Afuze training camp for our athletes and it helped them to train for competitions. That was why they were always at the top but today, that facility has been abandoned. The football pitch has been turned into a cassava farm."
He also pointed out that "lack of cautious and constant training for sports men and women" contributes to the decline as the authorities prefer the usual fire brigade approach. He stressed that "there is no short cut to victory.
It is known and proved that practice makes an athlete perfect. There are a lot that can be done if we practice hard, we would always win. If you are a 400m runner, you must train constantly running over that distance, if you run 100m hurdles, you must train for 110m, the extra effort will make the difference. Athletes give results proportionate to the quality of training they get."
Another bane he pointed out is "fraudulent methods of selecting sports men based on federal character, tribalism instead of merit." He said that as Chairman of the National Sports Commission in the past, "I took 170 coaches to Bauchi to test their fitness but only four of them made it.
But I was told we could not drop the unfit ones. So how do you expect an unfit coach to coach someone who is fit? The Sports authorities should first have people who are fit and competent and appoint them to train Nigerians for international competitions regardless of where they come from. Even if our players are from one family, as long as they are good, they should represent us. The idea that every section of the country must be represented in a team does not make us get our best."
He told a story how laziness and indiscipline also rub off on the country's teams. "As governor of Bendel state, the Green Eagles once camped in NIFOR (the Institute For Oil Palm Research near Benin City). I made sure I left my home at 5.30 am every day to see what they were doing in camp. The first day I got there, I met the coach (says he can't remember his name now) still sleeping at 6am.
I had to pour water in his ear and he woke up and complained of tiredness. I then told them they were not ready for the training. I said they should go back and return later that I would raise a crop of young boys to play them. I went into the streets and gathered some young boys and drilled them first on fitness for two weeks and thereafter taught them the techniques of football. When they took on the Green Eagles in a match, these boys outplayed them and they had to beg me that the boys should not disgraced the national team.
The referee had to award the Green Eagles a penalty and that was how they won the game." This story, he said, was "to prove that if our athletes are not fit, they cannot put in their best. So first they must be fit, then they must train constantly and engage in competitive games so as to adapt to what they will meet at competitions."
"The authorities must also ensure that they create a well-defined reward system for our athletes who excel. Their welfare must be of paramount importance so that we retain our best athletes all the time. Most of our good athletes born outside the country have refused to return home to compete for us or those who are back home have left to other countries because of poor treatment. I know of one Akagbusi who competes for Britain, Suleiman for France, and Ezeani for Canada.
At the Seoul Olympics in 1988, during the 400m men, the announcer said "Lane 1, Akagbusi, Great Britain, Lane 2, Suleiman, France, Lane 3, Ezeani, Canada and Lane 4, Innocent Egbunike of Nigeria. It was clear that Lanes 1-4 were occupied by Nigerian-born athletes. That race was won by Ezeani of Canada. At the end of the race, I invited Ezeani and asked him where he came from, he told me his father said that they came from Imo state in Nigeria.
Why are you competing for Canada, I asked him and he told me he was a Canadian, that all effort for them to return to Nigeria was foiled by the Nigerian Civil Service Commission which could not offer his father an appointment even though he had a Masters Degree. When his father waited in Nigeria for some time and there was no news from the employment agency, he returned to Canada to take up citizenship. Since then they have not returned to Nigeria."
Dr. Ogbemudia also cited the case of Gloria Alozie and Francis Obikwelu who competed for Nigeria before but had to change their nationality because of the poor welfare condition for Nigerian athletes.
In conclusion, the octogenarian harped on the need for the leadership of the country to ensure that only competent and passionate people are brought to head sports. "My answer to that question "where do we go from here" is we should accept the principle that the behaviour and competence of a society or group is a reflection of the quality of leadership it gets, that means whoever is in charge of sports must have a temperament for victory."