•Wants to know where restructuring will lead Nigeria
•Describes some of Buhari's ministers as misfits, Says the way to recovery is for
ministers to be experts or knowledgeable
in their assigned areas
•TSA is contributing to the recession
By Luka Binniyat
Tanko Yakassai, 90, is Chairman, Northern Elders Council, NEC. He was Liaison Officer to President Shehu Shagari (1779-1983). He is also a founding member of the Arewa Consultative Forum, ACF. In this interview, he blames the entire problems of Nigeria on the three military coup de'tats of 1966, 1975 and 1983, as he forecasts that getting out of the current economic recession may not be soon. Excerpts:
Nigeria is 56 today but things have gone wrong and Nigeria has disappointed the world. Some people think that part of the solution to our problem is restructuring the country. What is your take on this?
The problem with people calling for restructuring is that they have failed to tell us what they aim to achieve. What are the details? What is Nigeria going to look like when we restructure it? What could be the initial and aftermath expectation of their dream if Nigeria is restructured?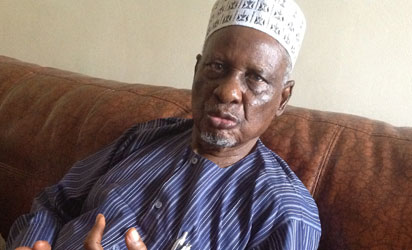 They are only making and shouting slogans. Restructure! Restructure! Some of them are calling for 'True Federalism,' as if there is anything like True Federalism. The truth is that every federation in the world is unique, because of several factors.
So, I think the agitators  of this idea need a lot of work to convince Nigeria about what they need to achieve, not driving Nigeria into a hole.
Looking back these years, are you  happy with the Nigerian polity of today?
I cannot be happy. Who is happy with the Nigeria of today?  I am one of those who called for the independence of this country. Then military came and destroyed all the efforts that our founding fathers did in building this country. There are three coup de'tats that did a lot of harm to this country: The first was the 1966 coup; the second was the 1975 coup and the third was the 1983 coup.
Each coup destroyed a certain aspect of Nigeria's political life and values. Each coup destroyed some political aspects of Nigeria's life. The first coup destroyed the political clout; the political parties that our founding fathers laboured to create. At the same time it destroyed the system of government in the country. The 1975 coup, of Murtala/Obasanjo, destroyed the Nigeria Civil Service.
It destroyed security of tenure in the civil service of Nigeria. When they came they started dismissing people without following due process. A Permanent Secretary would leave his home for the office. Before reaching his office, his name was already on the radio that he had been dismissed, just like that without any excuse given him.
Because of that the Civil Servants who were once loyal to their service and their country, decided to look for money for themselves. They reasoned that they could be dismissed anytime without any retirement benefit. They decided to look for money so that they could have security for themselves and their children in the event they were suddenly dismissed. Corruption took root in civil service.
The 1983 coup destroyed the political class and institutions created by the disciples of the earlier political leaders. The coup destroyed the effort to rebuild political culture in Nigeria. The implication was that we ended up in most of Nigeria's life with a military culture of governance.
Name them: Buhari, Babangida, Abacha, Abdulsalam. And if they were not in Khaki, they were in mufti: Obasanjo, Buhari, they are still military men and they rule with military mentality. So, in a nutshell, these are the major things that set us back or destroyed Nigeria from the fast pace developments we were witnessing after independence. And things cannot be fixed overnight. It's going to take time. It is going to take time to re-establish order and right the wrongs.
You have attempted to capture how we got here. What is the way to recovery?
The way to recovery is to allow political culture to flourish uninterrupted. It is only a democracy that can build a democracy. Unfortunately in most part of our lives it is the military that has dominated, not democracy. The military are limited in their training, in their psyche, in their mentality; their ego is military.
This is why you direct all national funds from the banks into a single treasury account at the Central Bank without taking into consideration the wider effects of that policy. Government's agencies put their monies in banks under certain conditions which are both benefiting the banks and government. And it is from these deposits that the banks lend out to people and corporate bodies at an interest rate, and they go into all manner of businesses creating wealth and employment.
But, suddenly, you decree that all the monies must be taken to the Central Bank under a Treasury Single Account, TSA. In the first place, government loses the interests that were supposed to accrue to these accounts. Again, the banks lose revenue and they will not be able to pay to government the taxes expected of them. The banks dwindling finances mean that they will not be able to pay their workers, and as such they have to cut down their work force.
So, government loses money through loss of interest rate, taxes and job losses. This is the military  mentality I'm talking about. Policies are not well though-out but just ordered out. The TSA could have been implemented carefully, phase by phase and the effect on the economy and society studied to decide how best to implement it or not.
You sound like you are not optimistic about Nigeria getting out of its present recession.
To be honest with you, I am not. I pray that we get out of this recession very quick, but I am not optimistic. I read from our Central Bank Governor saying that by this time next year we will be out of recession. But I also read from the IMF saying that the earliest Nigeria can get out of its present predicament is 2020.
If the IMF or the World Bank makes firm statements on the economy of a country and the Central Bank of that country comes out with a contrary stand, I will believe that of the IMF or the World Bank because they are more experienced than the Central Bank of any country. That is why I don't believe our Central Bank Governor more than the IMF. So, I don't think that we shall get out of our economic problems soon.
Some people say that the kinds of political appointees by the president is partly responsible for the present economic situation we have found ourselves. And that the core north got more than its fair share. Do you agree with that?
Look, I am a Nigerian who looks at every citizen as a Nigerian first. I look at Nigeria as a single entity. Every qualified Nigerian can be appointed to any office irrespective of where he comes from. You can never hear me say, 'there are few northerners or  Southerners' in political appointments. All I'm after are good people who can discharge their duties in the best interest of Nigeria.
That leads me to say that some Ministers today, as good as they appear, are misfits in their present offices. Take the case of the Minister of Communication (Barrister Adebayo Shittu). This is a first class lawyer – a Senior Advocate of Nigeria, SAN. He is posted to a Ministry where he is learning from the scratch. It is the same with the Minister of Budget and National Planning (Sen. Udo Udoma).
He is a lawyer. He is now in charge of planning and the Nigeria budget. He has to start from the scratch. Thank God he was a Senator and he once served on the budget or finance committee or something. But that  does not make him an expert in that field. It is the same with the Minister of Foreign Affairs (Barr. Geoffrey Onyeama), he is a lawyer. That ministry is not his area of expertise. They are  all novices in their areas of postings and you cannot expect a contrary result.
If President Muhammadu Buhari should ask for your advice on how to get Nigeria out of its present situation, what would you tell him?
I will start with his political appointees. People should be appointed based on their competence and be put in the right places. I will advise that the constitution be amended so that when Ministers are appointed, the ministry which they will be appointed to will be attached and submitted to the Senate.
Also, political parties should not make manifestoes before elections, but should be tested on their manifestoes before elections. For instance, this government came on the slogan of 'Change.' They never explained what their Change meant: Change from what to what?
That is why we are in trouble today. For one and half years now, this government is still learning on the job. But if they had articulated and understood what change they wanted and how to go about it, they could have achieved much, not minding other distractions. One and half years is a lot in the life of a government of four years.