By Peter Okutu
ABAKALIKI-THE Ebonyi State Chapter of the All Progressive Congress, APC, Wednesday took a swipe on Governor David Umahi, saying that he (Umahi) lacked the capacity and morality to be the Governor of the state.
Recall that during a Thanksgiving programme in honour of Senator Sam Egwu, Senator Sunny Ogbuoji and Deputy Governor Eric Igwe of Ebonyi State at the Abakaliki township Stadium Governor Umahi was reported to have described the Minister of Science and Technology as a political jobber.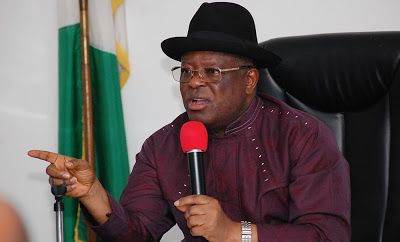 At a news briefing in Abakaliki, the State Acting Chairman of the party, Pastor Eze Nwachukwu Eze emphasized that for the Governor to relegated the person of Dr. Onu to the background meant he (Umahi) lacked respect for elders and the virtues of real Christian.
He noted that Governor Umahi was already aware that he will never come back as Governor of the State come 2019 as the APC was prepared to wrestle power from the Peoples Democratic Party, PDP in the State.
According to him, no matter the achievements of Governor David Umahi, he still does not qualify to polish the shoes of the Minister of Science and Technology who is noted for his political audacity, sincerity and commitment towards making the nation a better place.
Pastor Eze who described the Governor's outburst as the voice of a drowning man alleged that the generators currently positioned as strategic position in the state were targeted at destroying the lives of Ebonyi people through its constant-deadly emissions with the capacity to destroy human lives and the ozone layer of the Earth.
He described the current flyovers being built by Governor Umahi as a federal government project as the Governor had pushed for a payback from the federal government.
"The Governor's statement on our revered leader, Onu, meant he lacked the capacity to be the Governor of the state; Onu was the first Governor of Abia state and one wondered where David Umahi was then for him to call him a political jobber
"This present administration lacked policy direction as it is characterized by policy somersault; Onu's achievements are still on marched; Umahi should in all respect apologize to Ebonyians. He is not even qualified to polished Onu's his shoes.
"If he studies the bible as he claims, he should know that David in the Bible has regards for his seniors. The election that brought him to power took many lives; people were killed for him". APC alleges. Ends